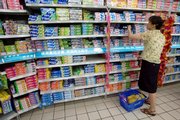 Beijing — Stung by product safety scandals, Beijing is waging its own version of a corporate public relations campaign to repair China's battered brand name.
This week, Beijing's propaganda machine trumpeted decisions to tighten standards for toothpaste makers and food processors and to create a symbol to attach to food exports that pass quality inspections.
But can Beijing restore consumer trust after a series of recalls and warnings in the United States, Latin America and Asia targeting faulty tires, toys containing lead, drug-laced seafood, tainted pet food ingredients, toxic toothpaste and other hazardous goods?
Yes, though not yet, analysts say. They say Beijing faces a long struggle to assure consumers it has made basic changes needed to enforce safety in its sprawling export industries.
"They've taken very strong public stances," said William Hess, chief China analyst for the consulting firm Global Insight. "But in reality, people are very skeptical of the overall capabilities of the regulatory regime. So I think more quantifiable steps are necessary in that area before people's confidence will be restored."
Exports are a cornerstone of China's sizzling economy. Exports in June surged 27.1 percent compared with the same month last year to $103.2 billion. That boosted total exports for the first half of this year to $547.6 billion, a 27.6 increase over the year-earlier period.
The flurry of incidents, some fatal, have forced China to act like a company in the midst of crisis management as it tries to preserve access to critical export markets.
The range of goods involved is so broad that officials complain the incidents are tarnishing the image of all Chinese exports, most of which have had no problems.
"Food security problems have impeded Chinese agri-products and food many times in international trade, and damaged our national credibility and image," said Sun Xianze, an official of the State Food and Drug Administration, quoted by the China Daily newspaper.
Beijing's mounting urgency about proving its commitment to safety has led to a striking level of candor about failings in the regulatory systems of the normally secretive communist government.
Such openness has proven critical for companies that are able to recover from product liability incidents, said Harvey Hoffenberg, president of Propulsion LLC, a Connecticut-based marketing firm.
"Just being quick to respond isn't the only thing. It has to have a real foundation for change," Hoffenberg said. "Consumers do forget easily sometimes, but only when they're comfortable."
Since the first product safety cases emerged in early May, China has tried to show its responsiveness by publicizing the closure of substandard food processing plants and a ban on unproven medications.
The tempo picked up this week. The government banned the use of diethylene glycol in toothpaste after U.S. authorities seized thousands of tubes tainted with the chemical, used in antifreeze.
Copyright 2018 The Associated Press. All rights reserved. This material may not be published, broadcast, rewritten or redistributed. We strive to uphold our values for every story published.