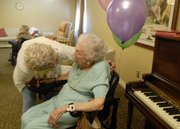 As they celebrated their shared birthday Friday, Lawrence residents Isaac Schmitz and Frances Jacobs marked a combined 108 years of life - five for Isaac, and 103 for Jacobs.
Isaac visited Jacobs at Brandon Woods Retirement Community, 1501 Inverness Drive, during her 103rd birthday celebration early Friday afternoon. He brought her a handmade construction-paper birthday card - complete with stickers and glitter - and a dandelion he had picked himself.
"I told her that we'd be best friends forever," Isaac said.
Jacobs had already gotten her hair done in the morning, and she would celebrate with another group of friends later in the day. But the visit and the card from the boy 98 years her junior were still a highlight of her busy day.
"Every year it gets better," Jacobs said of her birthday.
Jacobs said she considered her age an asset.
"I'm smarter than everybody, because I'm older," she said.
Jacobs, a Texas native, came to Lawrence about three years ago when her son, a Lawrence resident, recommended she live at Brandon Woods.
Isaac will begin kindergarten in the fall. A dinosaur enthusiast, he said he wanted to be a paleontologist when he grew up.
His grandmother, Cindy Foster, organized the meeting between the birthday boy and girl with the help of her boyfriend, a volunteer at the retirement home.
Copyright 2018 The Lawrence Journal-World. All rights reserved. This material may not be published, broadcast, rewritten or redistributed. We strive to uphold our values for every story published.