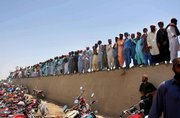 Basti Abdullah, Pakistan — Officials let a jailed cleric attend the burial of his slain brother Thursday, and he turned the funeral oration into a fiery denunciation of the government for the bloody siege at Islamabad's Red Mosque and called for an "Islamic revolution."
Hours later, Pakistani President Pervez Musharraf went on national television to vow that his government will crush extremists across the country and move strongly against religious schools like those at the Red Mosque that breed them.
Musharraf also said security forces along the border with Afghanistan will get tanks and other modern weapons soon to bolster the campaign against militants. The frontier region is a haven for al-Qaida and Taliban, and the U.S. has been pushing Pakistan to root them out.
"Terrorism and extremism has not ended in Pakistan," Musharraf said. "But it is our resolve that we will eliminate extremism and terrorism wherever it exists. Extremism and terrorism will be defeated in every corner of the country."
In apparent revenge for the eight-day battle at the Red Mosque that left 108 people dead, a suicide bomber attacked a government office near the Afghan border Thursday and killed two officials. Thousands of tribesmen, meanwhile, angrily mourned three militants killed at the mosque.
The army's assault on the Red Mosque militants has given hard-liners a new rallying cry and sparked calls from al-Qaida and Taliban leaders for revenge attacks. But the crackdown also has raised Musharraf's standing among moderate Pakistanis worried about extremism in their nation.
Musharraf urged those in charge of madrassas, or Islamic religious schools, to eradicate hatred and violence from the minds of their students.
"We will never allow any madrassa or mosque to be misused like the Red Mosque or the Jamia Hafsa," he said, referring to the Islamabad mosque's school for women.
The president promised five years ago to regulate Pakistan's thousands of religious schools, but concern had only grown that some are being used as sanctuaries or training sites for extremists.
Army commandos captured the Red Mosque in a 35-hour battle that ended Wednesday. Among the 85 people killed during the final assault was cleric Abdul Rashid Ghazi, who led the mosque's increasingly violent vigilante anti-vice campaign in the capital.
Ghazi's brother, chief cleric Maulana Abdul Aziz, was arrested last week while trying to slip out of the mosque disguised as a woman. He was allowed to attend Ghazi's burial at his ancestral village in Punjab province Thursday, a traditional practice for Pakistani prisoners.
Copyright 2018 The Associated Press. All rights reserved. This material may not be published, broadcast, rewritten or redistributed. We strive to uphold our values for every story published.