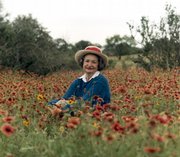 Austin, Texas — Lady Bird Johnson, the former first lady who championed conservation and worked tenaciously for the political career of her husband, Lyndon B. Johnson, died Wednesday, a family spokeswoman said. She was 94.
Johnson, who suffered a stroke in 2002 that affected her ability to speak, returned home late last month after a week at Seton Medical Center, where she'd been admitted for a low-grade fever.
Lyndon Johnson died in 1973, four years after the Johnsons left the White House.
Lady Bird Johnson was born Claudia Alta Taylor on Dec. 22, 1912, in the small East Texas town of Karnack. She received her nickname in infancy from a caretaker nurse who said she was as "pretty as a lady bird." It was the name by which the world would come to know her. She disliked it, but said later, "I made my peace with it."
Remembered fondly
President Bush and first lady Laura Bush remembered Mrs. Johnson as a "warm and gracious woman."
"President Johnson once called her a woman of ideals, principles, intelligence, and refinement. She remained so throughout their life together, and in the many years given to her afterward," President Bush said.
Other former first ladies remembered Johnson on Wednesday as deeply devoted to her family and the environment.
"Her beautification programs benefited the entire nation. She translated her love for the land and the environment into a lifetime of achievement," Betty Ford said.
Nancy Reagan said that when Lyndon Johnson was called upon to take the oath of office in the face of tragedy after the assassination of John F. Kennedy, "he did so with his courageous wife beside him." She said Lady Bird Johnson served the nation with honor and dignity.
The daughter of a Texas rancher, she spent 34 years in Washington, as the wife of a congressional secretary, U.S. representative, senator, vice president and president. The couple had two daughters, Lynda Bird, born in 1944, and Luci Baines, born in 1947. The couple returned to Texas after the presidency, and Lady Bird Johnson lived for more than 30 years in and near Austin.
Roadside beautification
As first lady, she was perhaps best known as the determined environmentalist who wanted roadside billboards and junkyards replaced with trees and wildflowers. She raised hundreds of thousands of dollars to beautify Washington. The $320 million Highway Beautification Bill, passed in 1965, was known as "The Lady Bird Bill," and she made speeches and lobbied Congress to win its passage.
"Every American owes her a debt of gratitude because it was her devotion to the environment that brought us the Beautification Act of 1965 and the scenic roadside development and environmental clean-up efforts that followed ... ," former President Bill Clinton and Sen. Hillary Clinton said in a statement. The Clintons also praised her for supporting her husband's "fights for civil rights and against poverty."
Rising to the challenge
When Johnson challenged Sen. John F. Kennedy unsuccessfully in 1960 for the Democratic presidential nomination, his wife was his chief supporter, although she confessed privately she would rather be home in Texas.
His nomination as vice president on Kennedy's ticket drew her deep into a national campaign. She stumped through 11 Southern states, mostly alone, making speeches at whistle stops in her soft drawl. In his 1965 memoir, "Kennedy," JFK special counsel Theodore Sorensen recalled her "remarkable campaign talents" in the 1960 campaign.
She was with her husband in Dallas on Nov. 22, 1963, when Kennedy was assassinated, and was at his side as he took the presidential oath of office aboard Air Force One.
In her book "A White House Diary," she recalled seeing Jacqueline Kennedy with her husband's blood still on her dress and leg. "Somehow that was one of the most poignant sights - that immaculate woman, exquisitely dressed, and caked in blood," she wrote.
Suddenly, the unpretentious woman from Texas found herself first lady of the United States.
Copyright 2018 The Associated Press. All rights reserved. This material may not be published, broadcast, rewritten or redistributed. We strive to uphold our values for every story published.