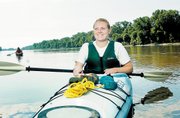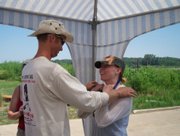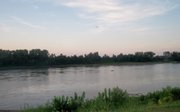 When Christina Glauner first heard about the Missouri River 340, she thought it a nice little marriage of two of her favorite pastimes, kayaking and camping.
Friend Edie Jackson brought it to Glauner's attention, and though the two hadn't done more than about 25 miles at a time in a kayak, they thought they'd give the 340-mile race across Missouri a try.
"We decided to go for it, see if we could finish," Glauner, 33, recalled.
Though the two knew the race would be a challenge, they had no idea what was in store.
Maybe the race's skull-and-crossbones logo could have provided a clue.
Just after putting in over 100 hours in Kansas City, Mo., Glauner and Jackson completed the race - billed as the longest nonstop river race in the world - last summer. Sore, weathered, numb, sleep-deprived and struggling to eat, the two pulled into St. Charles, Mo., in second place overall in the tandem division.
They promptly swore off river transport for the foreseeable future.
Then they set about planning this year's attack.
"I have full intentions of finishing," Glauner said. "I want to finish with a better time than we finished last year. I feel really confident this year. I'm definitely more prepared. I'm more excited than nervous. I'm excited to see the people who we met last year."
And just in case last year wasn't challenging enough, Glauner added a twist.
Instead of competing together, Glauner and Jackson, of Kansas City, Mo., decided to dump the relatively comfy but slow tandem in favor of two separate but more efficient solo kayaks.
"By Day Two (last year), we already were planning what we could do better next year," Glauner said. "We were in bad shape by Day Three, but we were thinking ahead to the next year. Not a day has gone by since last year that I haven't thought about what I could do better this year."
Kayaking for a cure
One wrinkle this year is that Glauner is kayaking for a cause.
Glauner is raising funds for the Kansas City affiliate of Susan G. Komen for the Cure, a noted breast-cancer organization.
Motivation was her grandmother, a breast-cancer survivor.
"She's done so much every year on her own to promote breast cancer research," Glauner said. "This was something I wanted to surprise her with. She was really excited. I told her last week. She's really happy about it."
Glauner received her first donation earlier this week and will accept them - potential donors can contact her at cglauner@gmail.com - and will accept them until July 20.
"I don't have a goal," she said. "I just want to see how much I can raise."
Day by day
Glauner and Jackson had an idea what to expect last year.
"We had a gameplan before the race. We expected the first day would be big on excitement," Glauner said. "We expected Day Two would be the beginning of physically starting to suffer, and that was right on. We thought if we could hold out to Day Three, the scenery would be to our benefit. That would get us to Day Four, and we'd be able to finish. We didn't think Day Four would be as bad as Day Three, but it was worse."
The biggest surprise, Glauner said, was the lack of sleep.
Heading into it, the two envisioned a nice little float down the Mighty Mo, with nightly re-energizing camp-outs.
"We thought we could put a lot of miles behind us and get some real sleep," Glauner said. "That first night, we realized we'd have to do a lot of paddling with only short naps. We thought we could camp at night. We just didn't have the time."
Thus, the two rushed downstream at the expense of sleep.
As the days wore on, the women felt the cumulative effects of the lack of shuteye.
"One of the biggest surprises was the effect of sleep deprivation," Glauner said. "A lot of times we'd fall asleep while paddling. The paddle would hit the kayak and you'd dose and wake up, startled."
Owie
Physically, their muscle aches grew in stature, too. Jackson's thumbs went numb - and stayed that way until days after the race. Both women ached, and Glauner had trouble eating.
"We were kind of in the Cadillac of kayaks. We could cross our legs, change positions a little bit," Glauner said. "We were hurting. But I never thought about not completing it."
Complete it they did. Despite a 100-hour limit, Glauner and Jackson were credited with a runner-up finish in the tandem division.
"I think they were pretty lenient with us since we were so close," Glauner said.
Last year's inaugural race drew 20 competitors. It quickly developed a following among the extreme-river-race set and the limit of 74 was hit relatively early during signups for this year's race, which will be held July 24-28.
"We had a great time meeting the other racers," Glauner said. "The camaraderie, the scenery : it really was a great time."
Copyright 2018 The Lawrence Journal-World. All rights reserved. This material may not be published, broadcast, rewritten or redistributed. We strive to uphold our values for every story published.