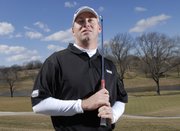 If hitting is baseball's greatest mystery, then putting has to be golf's.
Hot streaks with the putter about-face into slumps without any hint of trouble on the way. The range of differing practice routines is even wider than the different equipment used on the greens by anyone from hackers to professionals.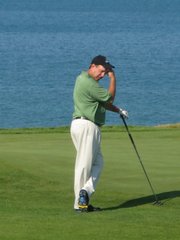 Chris Thompson, formerly of Kansas University and now playing his first season on the Nationwide Tour after several years on the mini-tour circuit, is the best golfer in Lawrence. That doesn't mean he has all the answers on the greens. Nobody does.
"I've always compared it to free-throw shooting," Thompson said before starting his Nationwide Tour season. "It seems like the more you work on it, the worse you get. If you're thinking about how badly you're putting, you're going to putt worse. If you're thinking about how bad you're shooting free throws, if you've got that in your mind, you're probably not thinking about what you need to be thinking about."
So what is going through his head as he strokes a putt?
"As dumb as it sounds, I try not to think about anything when I'm putting," he said. "I just want to get set up and let it go. You've got to be a good green reader, and I'm not great at reading greens."
Especially in Kansas, wind can be an issue.
"If the wind's blowing, your putter's swaying," Thompson said. "Wind is a factor in putting. It certainly moves the ball a little bit on longer putts."
At PGA Tour events, Vijay Singh is the first one to hit the practice green and the last to leave. He sets up tees on the greens and has a very rigid practice routine. Others just putt long enough to get a feel for the greens and their strokes.
Alvamar Country Club head pro Randy Towner rode a hot putter all the way to a spot in the U.S. Senior Open field. The hot streak didn't travel to Whistling Straits, where Towner shot 84-84 and didn't hit a putt of longer than seven feet until on his final hole.
Towner, who lists putting as the best aspect of his game, does not have a rigid routine.
"The way I putted this week, I think maybe I should," he said.
Putting with Champions Tour players on the practice green daily, Towner noted all the different putting and putter styles.
"Golf clubs are fairly conventional, except for putters," he said. "There are all sorts of different putters. You saw Sam Torrance with his putter on his chin. Putting is such an individual thing. Whatever works for you."
Thompson will do as well on the Nationwide Tour as his putter allows.
"You get to a point where everybody is just about the same," Thompson said. "Technology is so good it's hard to separate yourself. It basically comes down to driving and putting now. If you're doing those things well, you're going to play well no matter where you're at. I've always been a pretty good driver of the ball. That's the strength in my game. My putter's usually pretty streaky, is probably the best word. I need to get more consistent. Sometimes how I putt early in the round dictates how I putt the rest of the round. I need to stay more consistent."
Some golfers have turned to sports psychologists to improve their putting strokes.
"I never have," Thompson said. "I've had people talk to me about going, but I never have. I don't know if it would hurt, but a lot of those guys just say go through your routine and it doesn't matter if the ball goes in. If I go through my routine perfectly and the ball doesn't go in, I'm going to be pretty PO'd. I just can't not care about the result. It seems most of them are process oriented, not result oriented."
Thompson said he doesn't have a structured practice routine for putting.
"I just usually practice mostly from about six feet in," Thompson said. "Those are the most important putts. I usually just take one ball, pretend I'm on a course and try to make one ball. A lot of guys putt six balls in a circle and try to make all six. I'm sure that works, too."
Joe Jones, chairman of the golf committee at Lawrence Country Club, takes a sound approach to putting.
"I listen for it to go in," Jones said.
Jerking up the head to watch a putt, as with any golf shot, never works, so there is at least one way putting is similar to the rest of the game.
Copyright 2018 The Lawrence Journal-World. All rights reserved. This material may not be published, broadcast, rewritten or redistributed. We strive to uphold our values for every story published.