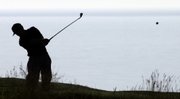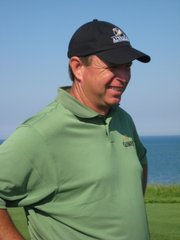 Haven, Wis. — He had just finished his nearly five-hour Friday walk, and Tom Watson said his legs felt as if he had stepped in concrete. He said he felt "unsure" of his swing and that it was "just a little bit off."
And, oh, by the way, Watson shot a 6-under-par 66 in the second round of the U.S. Senior Open at Whistling Straits to move to 8-under par, giving him a three-stroke lead over five players.
As for the competitive fires that helped Watson to win five British Opens and eight majors as a younger player, those appear ageless.
"I don't practice nearly as much as I used to," Watson said. "I used to practice all the time. I practice very rarely now. I get ready for my golf by working out, trying to get stronger, trying to keep my flexibility where it is. My competitive nature is the same as it was 40 years ago. It's fun to compete. It's fun to be in the hunt and to see if you can hit the same shots when the chips are down. If I lose that, I won't play anymore. If I don't get that little charge when I hit the right shot when the chips are down, that will be it."
The huge galleries that continue to follow Watson need not fear that day will come anytime soon.
Watson made Whistling Straits look easy on a day that Hale Irwin missed the cut, a first for Irwin in a Champions Tour major event, which ended a streak of 24 tournaments.
Charging hard, playing aggressively and nailing long putts just like in his younger days, Watson, 57, made eight birdies Friday, including four in a row.
"I still feel a little bit unsure about my golf swing," he said. "I feel like it's just a little bit off. I wish I could feel like my golf swing is hitting on all cylinders."
Or maybe he doesn't wish that.
"Byron Nelson always said, 'Whenever I got too complacent about the way I'm playing, I start to make mistakes. When I'm just a little unsure about the way I'm swinging is when I score best.' Maybe that's where I'm at," Watson said. "I was a little unsure about my swing, and it worked well today."
Watson, who teed off on No. 10, birdied 14, 15, 16 and 17, but he wasn't patting himself on the back afterward.
"I made some awkward swings out there to hit some awkward shots and got away with them for the most part," Watson said.
This is Watson's eighth U.S. Senior Open. He has placed second three times in the past five years, but is seeking his first title.
First-round leader Eduardo Romero, who shot a 66 Thursday, carded a triple bogey on the 18th hole Friday and finished 5-over par for the day.
Ben Crenshaw, Vicente Fernandez, Lonnie Nielsen, Loren Roberts, and Des Smyth are three strokes behind Watson, tied for second.
"Obviously, he still hits it as good as he ever did," Roberts said of Watson. "For him, it's a matter of making putts, and obviously he made some putts."
Several players commented on the beauty of the course, built alongside two miles of Lake Michigan shoreline and dotted with big dunes.
"It gets your attention," Watson said. "But you don't want to hit it where the beauty is. You want to hit it down there on the short green stuff. It's a pleasant golf course to walk. The views are very pleasant."
Watson said Whistling Straits, built in 1998 and designed by Pete Dye, reminded him, looks-wise, of his favorite course, Ballybunion, which is in Ireland.
"The dunes are just gorgeous," he said.
He noted a difference, however, between Ballybunion and Whistling Straits.
"This has the look of a links course, but it plays like a target-shot golf course," Watson said. "It's harder to bounce the ball into the greens because it has all these cutoffs. You've got to land it just exactly right."
He did so often enough to put a charge into the spectators.
"It's nice to have a big crowd," Watson said. "We don't play in front of big crowds in the Champions Tour very often. It's fun to play in front of a lot of people. It always is."
In front of a big crowd and in front of the pack, Watson has made this a must-see weekend for every golf enthusiast who owns a television.
Copyright 2018 The Lawrence Journal-World. All rights reserved. This material may not be published, broadcast, rewritten or redistributed. We strive to uphold our values for every story published.