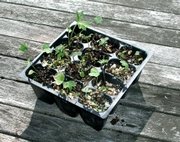 Who thinks of planting flower seeds this time of year?
Not many gardeners. Yet now is an ideal time to plant perennial flower seeds. They'll only grow leaves and stems this year - but next year and in years to come, they will be showered with blossoms.
The fact is, you need plenty of plants to make a bold show with any kind of perennial flower. You could, of course, just drive over to the nursery and fill up your trunk with 15 potted columbine, oriental poppy or delphinium plants.
But a single seed packet of any of these flowers could give you enough plants for the whole neighborhood. Furthermore, if it's pink poppies you want, or only deep-blue delphiniums, you might not find these particular colors at a nursery. A much wider selection is available as seeds than as plants.
So look around at other gardens and at your own garden and decide just what perennial flowers you want to grow. Deciding what to plant may be the hardest part of growing perennial flowers from seed.
To keep an extra-close eye on your seedlings, plant the seeds in pots or, even better, old plastic cell packs of the type in which nursery seedlings are sold. Before sowing, fill your containers with moistened, sifted potting soil.
As with vegetable seeds, perennial flower seeds each have their own germination requirements. You might find this information on the seed packet or in the seed catalog, along with information about how long you'll be drumming your fingers waiting to see sprouts.
Neither gayfeather nor anise hyssop seeds, for instance, like to be more than slightly covered, and both sprout quickest at temperatures from the 50s to the 70s. Lupin seeds also like that temperature range, but they need to be nicked with a file so they can absorb water, then given a good covering of soil.
Soak planted containers in a pan of water, cover them to hold in moisture and then settle in for the big wait.
By late summer, those seeds will have sprouted, and the seedlings will be ready to transplant out to their permanent homes in the garden. With cooler, moister autumn weather around the corner, plants will need little care beyond an initial watering-in. This timing allows roots enough time to grab tight hold of the soil before winter.
One problem with growing perennials from seed is trying to figure out what to do with all the extra plants you're bound to get from even a single seed packet. You may end up in the nursery business yourself.
Copyright 2017 The Associated Press. All rights reserved. This material may not be published, broadcast, rewritten or redistributed. We strive to uphold our values for every story published.