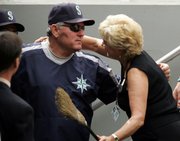 Mariners 2, Blue Jays 1
Seattle - Hours after Mike Hargrove abruptly resigned, Jose Guillen hit a tying homer in the eighth inning and a game-ending single in the ninth to help send the Mariners' manager out a winner.
Guillen's single off the glove of third baseman Troy Glaus ended the finale for Hargrove, who quit two hours before the game - in the middle of his 16th season as a major-league manager.
Angels 4, Orioles 3
Baltimore - John Lackey outpitched rookie Jeremy Guthrie to earn his 11th win.
Tigers 1, Twins 0
Detroit - Jeremy Bonderman beat Scott Baker in an old-fashioned pitchers' duel, and Marcus Thames homered with two outs in the eighth inning to lift Detroit over Minnesota.
Bonderman (9-1) allowed six hits in eight innings, striking out seven and walking one.
Indians 3, Devil Rays 2
Cleveland - Cliff Lee struck out nine to win for the third time in four starts for Cleveland, which won for the sixth time in seven games.
Lee (5-4) allowed one run and four hits with two walks in eight innings.
The left-hander fanned the side on 13 pitches in the first and went on to tie his career high for strikeouts.
Joe Borowski gave up Delmon Young's sacrifice fly in the ninth before recording his 24th save in 26 chances and 12th in a row since May 13.
Athletics 11, Yankees 5
New York - Jack Cust and Dan Johnson homered in Oakland's seven-run second inning. Dan Haren (10-2) pitched 51â3 innings to win his career-best 10th straight decision and improve to 4-0 in seven career starts against the Yankees.
Rangers 2, Red Sox 1
Boston - Kameron Loe won his fourth consecutive start, and Michael Young had a pair of hits for Texas. Loe (5-6) allowed one run, six hits and two walks in six innings.
Copyright 2018 The Lawrence Journal-World. All rights reserved. This material may not be published, broadcast, rewritten or redistributed. We strive to uphold our values for every story published.