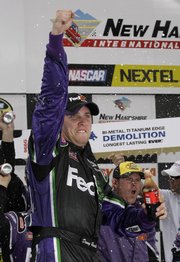 LOUDON, N.H. — A two-tire gamble for Denny Hamlin paid off with his first NASCAR Nextel Cup victory of the season Sunday at New Hampshire International Speedway.
Hamlin, last year's top rookie, is second in the season points, but he has been frustrated this season, leading laps and contending without being able to take a checkered flag in the first 16 races.
It appeared he would fall short again this time, with Martin Truex Jr., series points leader Jeff Gordon and Truex's teammate, Dale Earnhardt Jr., all running ahead of Hamlin late in the race.
But the leaders made their final scheduled pit stops on lap 255 during a caution period, and Hamlin was the only one of the quartet to take two fresh tires instead of four. He vaulted from fourth to first and stayed out front to the end of the Lenox Industrial Tools 300.
"It's amazing to finally get a win," Hamlin said after winning for the third time in his budding Cup career and the first time since last July at Pocono. "We were back in sixth and seventh most of the day, and the only shot we had was to get track position," said Hamlin, who now has seven top fives and 11 top 10s this season. "You know, two tires worked for us earlier (in the race), and we kind of made a note that anything inside of 120 laps to go we were going to do two."
Hamlin has said he and his team were working hard to win races because the 12 drivers who qualify for this year's 10-race Chase for the championship will be seeded, with each driver getting 10 extra points for each win during the 26-race regular season.
While Hamlin worked hard to stay out front, Gordon was working over Truex, trying hard to get by.
The two Chevrolets spent a lot of time side-by-side and nose-to-tail until Gordon finally squeezed past seven laps from the end of the 300-lap race on the 1.058-mile oval.
Gordon, racing with an interim crew chief after NASCAR suspended both his and teammate Jimmie Johnson's crew chiefs for six weeks after their teams were caught the previous week at Sonoma with illegally modified front fenders, nearly chased down Hamlin.
The four-time series champion got right up on the rear bumper of the leader's Joe Gibbs Racing Chevy on the final turn.
Hamlin held on to win by just 0.068-seconds - less than a car-length - in the eighth race and New Hampshire debut for NASCAR's new Car of Tomorrow.
"You can't overdrive this car," Gordon said of the bigger, bulkier COT.
Copyright 2018 The Lawrence Journal-World. All rights reserved. This material may not be published, broadcast, rewritten or redistributed. We strive to uphold our values for every story published.