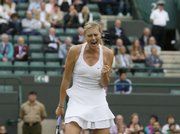 Wimbeldon, England — Showers wiped out most action Saturday at Wimbledon, and it was drizzling when 2004 champion Maria Sharapova finally finished her 6-3, 6-3 victory despite the animated protests of No. 26-seeded Ai Sugiyama that it was too slick to play.
"I was starting to get agitated. I saw the rain in the middle of the second set, and I knew, if it keeps going, obviously the grass is going to get wet," Sharapova said. "I didn't want it to be too dangerous to play out there. But it worked out well in the end."
Well, for her, anyway.
There was, not surprisingly, a different take on things from Sugiyama, whose best showing in 15 Wimbledon appearances ended with a loss to Sharapova in the quarterfinals three years ago.
"It was very wet at the end," Sugiyama said. "Last two games were really slippery."
In the only other singles match completed, defending champion Amelie Mauresmo beat No. 28 Mara Santangelo of Italy, 6-1, 6-2, in 57 minutes to reach the fourth round.
Seven men's and women's singles matches were suspended in progress, and seven men's matches were postponed entirely until Monday - when the forecast calls for more precipitation.
Three-time champion Venus Williams could have not one but two sleepless nights pondering her second-set struggles against 71st-ranked Akiko Morigami of Japan. Williams won the first set 6-2 but was trailing 1-4 in the next when play was halted. The winner meets Sharapova for a quarterfinal berth.
No. 7 Tomas Berdych took the first set of the only men's match that started.
Copyright 2018 The Lawrence Journal-World. All rights reserved. This material may not be published, broadcast, rewritten or redistributed. We strive to uphold our values for every story published.