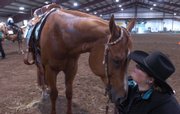 The fourth annual Kansas Summer Classic Horse Show at the Douglas County 4-H Fairgrounds on Saturday was the perfect way for the Ostronic family to spend a rainy afternoon.
Laurie Ostronic, of Lawrence, her husband and four children sat on bleachers beholding the variety of horses.
"My daughter wants one now," she said.
Mary Sharp, show director, said she knew wet weather would decrease turnout, but still expected "tons of different kinds of horses."
About 40 competitors participated in the horse show, which included more than 30 events, such as lead line, Showmanship at Halter and Western Pleasure Open.
Kim Ratliff, 17, of Buckner, Mo., competed at the horse show for the first time Saturday, in the Western Pleasure Open with her quarter horse named Gator.
"It's supposed to look easy," she said. "You keep a loose rein; everything is to make you look like you're having fun and in control."
For Ratliff, it was all for fun. "I don't care if I win or lose," she said.
Throughout the event, there were raffles, lead line classes for riders 6 and younger and trail classes.
The show was also an opportunity for Community Living Opportunities Inc. to share plans for Midnight Farm, a 40-acre farmstead in rural Douglas County.
CLO provides comprehensive services to more than 350 children and adults with severe developmental disabilities in eastern Kansas.
Midnight Farm will be a working farmstead for individuals in CLO and community members.
It will include four family-teaching homes, recreational opportunities, horticulture therapy, and a multipurpose barn and arena for therapeutic horseback riding. The project was approved by county commissioners in March and is expected to be open within a year.
CLO was the beneficiary of the horse show this year.
Mike Strouse, chief executive officer of CLO, said he hoped to raise about $7,000 to go toward facilities on the acreage, but the bigger goal for him was to raise awareness and public interest in the farm project.
Copyright 2018 The Lawrence Journal-World. All rights reserved. This material may not be published, broadcast, rewritten or redistributed. We strive to uphold our values for every story published.