Carl Krehbiel, of Moundridge, a 1970 Kansas University graduate, remembers well his three years living in Stephenson Scholarship Hall.
His roommates tutored him in math. He helped others with their foreign language studies, and Krehbiel learned to play bridge, of course.
"I certainly believe that the scholarship hall is the optimal academic environment and social atmosphere for students," he said Saturday morning at a ceremony at the all-women's Rieger Scholarship Hall.
KU and KU Endowment Association leaders revealed that Krehbiel - a Kansas businessman, former state legislator and Vietnam veteran - was the donor who pledged $4 million to build KU's 12th scholarship hall next to Rieger Hall at 13th and Ohio streets.
KU will ask the Kansas Board of Regents to name the new all-male hall for Carl Krehbiel's parents, alumni Floyd H. and Kathryn Krehbiel. The new building will house 50 men and be built in the same mold as Rieger Hall.
The scholarship hall program is for students with promising academic and leadership potential. Residents pay about $1,600 less than students who live in residence halls, but scholarship hall residents agree to take on weekly household and cooking duties.
"This is a great day for the scholarship hall community and for the university as a whole. This next addition is something I think everybody's going to be very, very proud of," KU Chancellor Robert Hemenway said during Saturday's ceremony.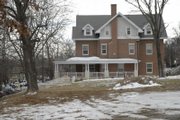 KU hopes to begin construction in the spring and complete it by fall 2008. KU Endowment leaders said Treanor Architects would design the twin to Rieger Hall.
Carl Krehbiel took over the family's Moundridge Telephone Co. in 1992 after his father died. Floyd Krehbiel graduated in 1947 and lived in Battenfield Scholarship Hall.
Decked in crimson and blue garb, Kathryn Krehbiel - a 1945 KU graduate - also attended Saturday's ceremony along with several KU scholarship hall residents. She has established a scholarship each for a man and woman KU basketball band member and is known for buying soft drinks for band members during games.
Both Kathryn and Floyd Krehbiel played in the KU band at basketball games in the 1940s.
"Mom is very excited about it. I wish my father could be here. They both had valuable experiences at KU," Carl Krehbiel said. "Mom is absolutely delighted we are doing this and making this available."
Copyright 2018 The Lawrence Journal-World. All rights reserved. This material may not be published, broadcast, rewritten or redistributed. We strive to uphold our values for every story published.