Beirut, Lebanon — University students loyal to Lebanon's government clashed with Hezbollah supporters Thursday, setting cars ablaze and battling with homemade clubs and stones. The melee deepened worries that Lebanon cannot contain the political and sectarian rivalries threatening to push it toward civil war.
At least three people were killed and dozens were injured before army troops backed by tanks and firing barrages of warning shots into the air dispersed most rioters. The military then declared Beirut's first curfew since 1996.
But the fallout reaches far beyond the casualty count. The clashes, sparked by a cafeteria scuffle between pro-government Sunni Muslims and pro-Hezbollah Shiites, reinforced fears that Lebanon's sectarian divisions are erupting into violence as they did during the 1975-90 civil war.
It was the third straight day of violence, sparked by a Hezbollah-led strike Tuesday that came ahead of a crucial gathering of donor nations in Paris. The conference Thursday raised pledges of $7.6 billion to help Prime Minister Fuad Saniora's U.S.-backed government rebuild after last summer's devastating Israel-Hezbollah war.
The money and show of international support could boost the embattled Saniora. The Iranian-backed Hezbollah has vowed to bring him down unless the opposition is given more power.
The chaos has paralyzed the government. Hezbollah leader Sheik Hassan Nasrallah said Wednesday that donors were backing the wrong side in the standoff and that he could topple Saniora at any time.
During Lebanon's civil war, Christians battled Muslims. But the new confrontation has taken different sectarian lines: Shiites support the opposition, Sunnis back the prime minister and Christian parties are divided between the two camps.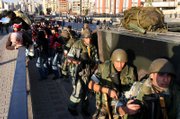 If sectarian divisions explode in Lebanon, it would likely further fuel Sunni-Shiite tensions across the Arab world, already heightened by Iraq's turmoil. Mainly Sunni Arab nations like Egypt and Saudi Arabia have shown alarm at Hezbollah's increasing strength in Lebanon and have backed Saniora.
Thursday's clashes in Beirut showed just how quickly any spark can turn into a wildfire.
Students said it began with a scuffle in the cafeteria of Beirut Arab University between Sunni Muslims and supporters of the Shiite Hezbollah. As Sunnis in the surrounding Tarik el-Jadideh district moved in, Hezbollah activists called in reinforcements.
Hezbollah activists with walkie-talkies were seen coordinating as hundreds of vigilantes raced to the campus. Gangs - many wearing construction hard hats and wielding clubs made from sticks and even chair legs - poured into the area and battled Sunni students and riot police and soldiers.
Hezbollah backers claimed Sunni gunmen fired from apartment balconies near the school, wounding several people. The claim could not be independently confirmed.
Three people were killed and 169 injured, security officials said. It appeared one of the dead was Sunni and the other two Shiite, judging by the district of the hospitals their bodies were taken to.
Copyright 2018 The Associated Press. All rights reserved. This material may not be published, broadcast, rewritten or redistributed. We strive to uphold our values for every story published.