Fort Riley — Trudging through the snow, three dozen foreign reporters followed soldiers through a mock Iraqi village Wednesday. Weighted down by Kevlar helmets and flak jackets, they maneuvered cameras and microphones to document the training.
The scene at Fort Riley came as cameras worldwide are focused on the United States and President Bush's new plan for the Iraq war.
Fort Riley is deploying 3,400 soldiers in the coming weeks to Iraq, while also training hundreds of transition teams that will imbed with the Iraqi military for a year. The foreign journalists wanted to see and talk about that training.
When will the Iraqis be ready?
What is the biggest challenge?
Is the training mission the last-ditch effort to win the war?
The commanding general of Fort Riley and the 1st Infantry Division answered the questions patiently and quoted Lt. Gen. David Petraeus, tapped by President Bush to be the next top commander in Iraq.
"The situation is dire, but not hopeless," Maj. Gen. Carter Ham said repeatedly as journalists from Japan, Spain, Israel and Turkey asked questions.
The media tour came as the Senate Armed Services Committee endorsed a nonbinding resolution opposing Bush's plan to increase troops in Iraq by 21,500, including a brigade from Fort Riley.
"It's certainly been interesting. They are obviously keenly interested in the policy debate that's going on in Washington," Ham said. "But I think they gain an understanding that the policy debate is one thing, but in the military we're focusing on following the last order first. The last order was do the advisory team mission."
The tour was organized by the Army and the State Department's Foreign Press Centers. Last year, journalists toured the Central Command and Special Operations Command in Tampa, Fla.
Jess Baily, director of Washington's Foreign Press Center, said the tours are part of the State Department's public diplomacy efforts to inform the international media about U.S. policies and dispel myths and stereotypes.
Using advisers to train the Iraqi army so the U.S. can end its presence is a timely story.
"There's great interest out there," Baily said. "From past experience, each reporter is different, but I do think that people, reporters in general, come away quite impressed with the dedication of our soldiers."
Nasser Hssaini, a correspondent for Al-Jazeera television in Washington who visited Centcom last year, said the earlier trip shed light on the war on terror for his Arab audience.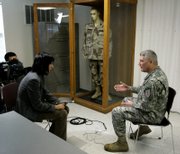 "What you discover is that this war on terror, this notion to Bush, is really a worldwide phenomenon. It's not just America," Hssaini said. "Other friendly allies - many of them are Arab Muslim countries - offer representatives who work daily with their American counterparts."
He said Fort Riley knows Iraq "too well," based on the number of deployments and the training mission.
"It's a great thing. Is it going to succeed? God only knows, but also it depends on the Iraqis," he said. "I hope that they succeed. It's a noble thing to do. We all know that politicians screw up, and it's up to the military to fix our things up."
Journalists said they learned a lot about the tactics of the training teams. They wanted more discussion of policy, though they understood why they weren't getting it.
Jan Tromp, with The Volksrant of the Netherlands, called Fort Riley's adviser program "probably the last one to try to get any control in that doomed country."
"They are very anxious and reluctant to give answers that might be mildly interpreted as political," Tromp said. "Maybe they could have been a bit more open, but I do understand. But they believe in the program."
He said readers in Western Europe remain opposed to the Iraq war and nothing that he writes showing the training mission is going to change opinions.
"My readers are pretty much biased by now, and they are biased for good reasons because it's a mess over there, and the Americans don't succeed in turning it around," Tromp said.
The day wasn't without hitches. Journalists had some difficulty heating their meals ready to eat - MREs - on the bus ride to the training range. Later, a van carrying an Italian reporter and cameraman got stuck in the snow.
For the most part, media had access to soldiers heading to Iraq and the officers who are training them for the duty. Journalists saw language labs where soldiers learn Arabic phrases, as well as a Humvee rollover simulator.
The journalists paid their own way to Kansas and for lodging. For $4, a journalist received an MRE and a bottle of water; pouring water over the meal packet activates a chemical in the plastic wrap that creates heat and steam and cooks the food.
The White House has put additional focus on public diplomacy, given global conflicts and the perception that America's image is declining. Bush appointed former adviser Karen Hughes to lead the State Department's public diplomacy efforts.
Baily said while there are concerns worldwide about U.S. policies, maintaining openness with the foreign press helps other nations understand those decisions and the people carrying them out.
"It's not something that one newspaper article or one television report about training at Fort Riley is going to change," Baily said. "This is a long-term thing."
Copyright 2017 The Associated Press. All rights reserved. This material may not be published, broadcast, rewritten or redistributed. We strive to uphold our values for every story published.