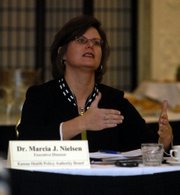 Massachusetts recently required that all residents have health care insurance, but the backlash could be coming, a Boston health care executive said Monday.
"I personally worry that you may see a repeal movement," James J. Mongan told a crowd of about 40 people Monday morning at the Eldridge Hotel. "It doesn't take more than a few radio talk-show hosts to really go at something like this."
Mongan, president and CEO of Boston-based Partners Healthcare System, discussed some of the challenges involved with the Massachusetts health care plan, which has been viewed as the most ambitious effort nationwide to cover the uninsured.
He spoke on the first day of a two-day retreat by the Kansas Health Policy Authority, a 15-member board created by law in 2005 with the goal of coordinating a statewide health policy agenda.
Gov. Kathleen Sebelius has called on the group to help draft a plan this year to implement universal health care coverage in Kansas.
But not everyone agrees about what that means or how it should be carried out. Rod Bremby, secretary of the Kansas Department of Health and Environment, said members of the group shouldn't lose sight of the main goal: improving the health care of Kansans.
The biggest challenge to adopting a universal health care plan, Bremby said, is that "we don't have a stated agreement on the goals and principles we're trying to achieve."
Copyright 2018 The Lawrence Journal-World. All rights reserved. This material may not be published, broadcast, rewritten or redistributed. We strive to uphold our values for every story published.