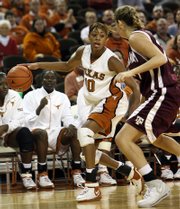 Austin, Texas — Defense, defense, defense. That's all No. 22 Texas heard about No. 17 Texas A&M.;
Tired of hearing how good the Aggies and their smothering defense could be, Tiffany Jackson and the Longhorns figured it was time to play some of their own.
Jackson scored 27 points and grabbed 14 rebounds, and the Longhorns forced 23 turnovers to roll over the Aggies, 64-45, Sunday.
"This week in practice, everybody was fired up," said Jackson, who also had three steals. "We knew it was a big game for us, and we needed this win."
The Longhorns scored 26 points off the A&M; turnovers and held the Aggies to 31 percent shooting. Brittainey Raven added 14 points for Texas (14-5, 3-2).
Takia Starks scored 14 to lead Texas A&M; (13-4, 3-2). The Aggies had held opponents to an average of 49.1 points this season, but couldn't stop Jackson from posting her seventh double-double this season. Jackson was 9-of-12 from the floor.
"We take a lot of pride in how we play defense, but I was more impressed with Texas' defense than anything tonight," A&M; coach Gary Blair said. "Our post players were scared and not finishing shots. Today, my team lacked toughness, and it was all about Texas."
The Longhorns forced the Aggies into 15 turnovers in the first half, turning them into 15 points, and led 28-18 at halftime. It was the fewest points scored in a half by the Aggies this season.
A 13-5 run by Texas to open the second pushed the lead to 41-23. The Aggies, who waited to use the full-court defense that worked so well this season, tried to disrupt the Longhorns with pressure, but Texas kept extending its lead.
The Aggies forced Texas into 23 turnovers, but their own miscues kept them from making a run.
Two steals and layups by Raven, and consecutive baskets by Jackson helped the Longhorns counter any momentum the Aggies could muster.
Copyright 2018 The Associated Press. All rights reserved. This material may not be published, broadcast, rewritten or redistributed. We strive to uphold our values for every story published.