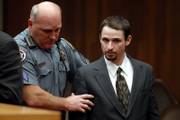 A Lawrence man convicted last year of killing his infant daughter was sentenced to life in prison during a Douglas County District Court hearing today.
Jay D. Decker, 27, declined an opportunity to make a statement in court prior to the sentencing by Judge Paula Martin.
Decker was found guilty by a jury in November of first-degree murder. Evidence presented in the trial showed that 5-month-old Risha Lafferty died from a skull fracture and signs of being shaken. The girl died on Oct. 14, 2005.
Decker will be eligible for parole after he has served 20 years in prison. He will be given credit for time already spent in the Douglas County Jail, which amounts to more than 400 days.
In December Risha's mother, Brandi Mae Hendrickson, 25, was sentenced by Martin to serve 60 days in jail for failing to protect her daughter from abuse by Decker.
Copyright 2018 The Lawrence Journal-World. All rights reserved. This material may not be published, broadcast, rewritten or redistributed. We strive to uphold our values for every story published.