When Lauren Krivoshia travels the globe, she wants to be more than just a tourist.
"Last year I studied abroad in Italy," the Lawrence native said. "I just felt really selfish the entire time I was there. It was just me. I wasn't helping anyone else."
The 2003 Free State High School graduate, now a senior at Indiana's DePauw University, is about to trek to the other side of the globe - and this time she's not just going to pick up a few postcards and lie on the beach.
Krivoshia will help build houses, assist medical clinics and learn about sustainable living and Vietnamese culture in a three-week service trip to Vietnam.
The journey, part of a winter service program organized by DePauw, begins Wednesday.
"I heard of the trip and I knew it was something I wanted to do," said Krivoshia, who was in Lawrence last week for the holidays.
Krivoshia, who studies photography at DePauw, has been down this path before. In January 2005, she took a similar trip to Equador, where she assisted medical clinics in the small communities near the capital city of Quito.
"It was the best learning experience I've ever had - things you can't learn in classes," she said. "It's real life. It changes your world views."
Her latest excursion begins in Ho Chi Minh City, and the first stop from there is the coastal city of Nha Trang. The group of more than 20 students will break into smaller groups and head to various locations. Some will help at a leprosarium, a hospital for the treatment of leprosy. Others will build homes for the leprosarium's patients. Some may work in a clinic set up by one of the student's parents, who is a physician.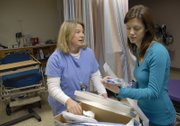 Krivoshia gathered supplies donated from Lawrence Memorial Hospital to bring with her on the trip. She also received donated medical supplies and medicines from ShopKo, a Green Bay, Wis.-based retail and pharmacy chain.
The students also will assist in local microcredit efforts. Bangladeshi economist Muhammad Yunus and his Grameen Bank earlier this year won the Nobel Peace Prize for the spread of the microcredit system, which issues loans to poor people in an effort to help them rise out of their impoverished conditions.
The effort in Nha Trang has granted small loans to leper patients for the starting of hog farms, for example, said Nishita Trisal, the student coordinator of Depauw's Vietnam trip.
From Nha Trang, the group will head to Can Tho, the largest city in the Mekong Delta. They will assist a biodiversity research station. They will help farm while learning about the efforts for sustainable living in the area.
Trisal said the group tries not to think of the trips as efforts to help others, but to work with others for progress.
"We're participating in a global society," she said. "It's really about learning mutually from each other and learning by interacting with people."
Copyright 2018 The Lawrence Journal-World. All rights reserved. This material may not be published, broadcast, rewritten or redistributed. We strive to uphold our values for every story published.