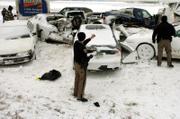 Denver — A large, fast-moving snowstorm that closed sections of major highways in the Plains on Saturday was blamed for seven traffic deaths, while strong winds in Arkansas cut a 5-mile-long swath of damage, destroying buildings and leaving several people injured.
The storms in the Plains knocked out power to more than 145,000 customers and dumped more than a foot of snow on the Upper Midwest. The seven deaths all occurred on slippery Wisconsin roads.
Meanwhile, some residents in the southeastern Arkansas city of Dumas were unaccounted for after winds, and possibly a series of tornadoes, blew through and police were making a door-to-door search, authorities said. Emergency crews summoned ambulances from a neighboring county.
A Fred's Dollar Store just south of Dumas was left in a tangle of twisted metal and crumbled concrete blocks, and an overturned tractor-trailer rested in its parking lot. A power substation was destroyed and electricity was out in the area.
Forecasters said the damage could have been done by a tornado or by straight-line winds that could have exceeded 70 mph. Several people were injured, some seriously, authorities said.
In Colorado, Interstate 70, a major cross-country route, was closed for about 400 miles in both directions from just east of Denver to Salina, Kan., because of blowing snow and slippery pavement, Colorado and Kansas highway officials said.
Between Denver and the beginning of the highway closure, about 35 cars collided in a pileup in whiteout conditions on an icy section of I-70. No major injuries were reported.
The weather service reported wind gusts of 68 mph in the Denver area. In Kansas, winds whipped about 3 inches of snowfall into 7-foot drifts.
A number of other highways also were closed in two other states, Wyoming and Nebraska. But many roads reopened later Saturday, including most of Interstate 80 in Nebraska, of which more than 270 miles had been closed.
Power was knocked out to 135,000 customers in Iowa, where freezing rain coated trees, power lines and utility lines with ice. Outages were also reported in Oklahoma and Nebraska.
"The snow is so wet it's sticking to power poles and power lines," said Bill Taylor of the National Weather Service office in North Platte, Neb.
The weather service posted blizzard and winter storm warnings for parts of Colorado, Kansas, Nebraska, South Dakota, Iowa, Minnesota, northern Illinois and Wisconsin.
Winds reaching 60 mph helped fuel dozens of grass fires across Texas, destroying three homes near Midland and forcing evacuations at Fort Hood, authorities said. No injuries were reported.
Airlines canceled 230 arrivals and departures at Chicago's O'Hare International and 40 at Midway in anticipation of snow, sleet and freezing rain, said Wendy Abrams, Chicago's aviation department spokeswoman. United Airlines planned to cancel all flights at O'Hare after 7 p.m., spokeswoman Robin Urbanski said.
Copyright 2018 The Associated Press. All rights reserved. This material may not be published, broadcast, rewritten or redistributed. We strive to uphold our values for every story published.