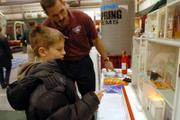 For someone who says he's constantly remodeling his three-story house in Topeka, Michael Bradley found the right place Saturday at the Lawrence Home Show.
Bradley roamed the showroom of First Serve, 5200 Clinton Parkway, in search of displays and ideas for his house projects.
Right now, his kitchen is gutted for a remodeling project and has no water running to it.
He said the home show had been useful for him, especially for helping him procrastinate.
"We're here to avoid the work necessary to get the water back in the ground floor," Bradley said with a laugh.
On Friday and Saturday, First Serve looked like a place where someone could live, with displays of kitchens, bathrooms, living rooms and most any other part of a house scattered across the indoor tennis facility.
It will remain that way today from 11 a.m. to 4 p.m. as the seventh annual Lawrence Home Show continues for its last day.
Bobbie Flory, executive director of the Lawrence Home Builders Association, said the first two days of the show generated decent foot traffic, even if there was less-than-stellar weather over the weekend.
She said this year's show was the largest one yet, with more than 60 companies putting forth elaborate exhibits.
"They're fun to look at even if you're not in the market," said Flory, whose organization sponsors the home show.
Many of the exhibits Saturday displayed ideas for indoor and outdoor home remodeling projects.
Others offered financing options for projects, and still others represented home builders.
It all may be enough to get Bradley back home to finish up the work in his house.
"Actually, I think we're on our final run at it," he said. "I think this will motivate us to finish it up."
Copyright 2018 The Lawrence Journal-World. All rights reserved. This material may not be published, broadcast, rewritten or redistributed. We strive to uphold our values for every story published.