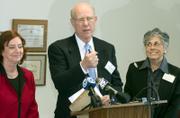 U.S. Sen. Pat Roberts, R-Kan., referred to himself Friday as the Senator Left Behind, as he was rushed away from a meeting with Kansas school superintendents to other obligations.
Roberts said he could have spent three hours with school officials discussing their concerns with the No Child Left Behind program. The senator met with 20 school superintendents from northeast Kansas as part of a trek around the state. Roberts acknowledged that No Child Left Behind has its problems.
"We have quite a few challenges before this gets fixed," Roberts said. "Too many teachers are worried about No Child Left Behind that it is sucking the joy out of teaching."
Some of the concerns voiced by school officials included the problems of teaching to the test, funding the program properly and making adequate yearly progress. The most important suggestion, Roberts said, was that the program should become more flexible.
"We need to be taking a look at individual growth to measure performance," Roberts said. "(It is frustrating) if you go from zero to 80 and the goal is 85."
Alexa Posny, director of the U.S. Department of Education Office of Special Education, accompanied Roberts on his swing through Kansas City. Posny, a former Shawnee Mission School District administrator and one-time candidate for Kansas education commissioner before the job went to former commissioner Bob Corkins, said changing the performance expectations is especially important for students with special needs.
"Special needs students, including those with disabilities and English learners, need a different way to measure performance," Posny said. "We are talking about learning as the constant, not time."
Roberts said the No Child Left Behind program is also insufficient on Title I funds. He said that while the budget climate in Kansas is difficult, more funds are needed in Title I.
"Some schools don't have the funding to keep up with No Child Left Behind," Roberts said. "If we could fund it at the level we promised, we wouldn't have to have lawsuits to figure out how we should educate our kids."
Superintendents in attendance at Friday's meeting included those from Douglas, Johnson, Leavenworth, Shawnee and Wyandotte counties.
Copyright 2018 The Lawrence Journal-World. All rights reserved. This material may not be published, broadcast, rewritten or redistributed. We strive to uphold our values for every story published.