The big three-story, Queen Anne-style house at 1646 Mass. has been nominated for inclusion on the National Register of Historic Places.
The Kansas State Historic Sites Board of Review selected the 113-year-old house, along with nearly a dozen other houses and buildings throughout Kansas, for nomination to the National Register and the Register of Historic Kansas Places.
"We feel quite privileged to live here," said Matt Veatch, who along with his wife, Judy, has owned the house for 10 years. "I'm a strong believer in historical preservation."
Veatch, who submitted the application forms to the sites board, knows about historical preservation. He is an archivist at the Kansas State Historical Society in Topeka.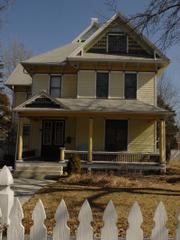 The family of Edward House was the first to live in the residence built in 1894. Other prominent residents include Carl Friend, a Lawrence lumberman, banker and politician who owned the house from 1903 to 1909. He became a state senator and Kansas lieutenant governor in the 1930s. A 1930s Kansas University football coach, Gwinn Henry (9 wins, 36 losses), lived in the house from 1939 to 1942.
Queen Anne houses were the dominant residential style in the United States from 1880 to 1910. They were defined by large turrets, front porches and decorated gables. Veatch credits Terry Reardon, a more recent former owner, for restoring the house and introducing it to modern heating, air conditioning and plumbing. Third-floor attic space was turned into three bedrooms and a bathroom.
Veatch said he likes the cherry woodwork in the house, two parlors, the pocket doors and the oak staircase.
"It's an old house, so you've always got something you need to work on, but it's been pretty well maintained over the years, and we try to make sure it stays that way," he said. "You can sense that a lot of people have lived here over the years."
If the house is placed on the National Register, the Veatches will be able to use tax credits for maintenance projects. They will be limited, however, in projects they can do that require a building permit. Veatch said it could take as little as a month to find out whether the house is placed on the National Register.
Copyright 2018 The Lawrence Journal-World. All rights reserved. This material may not be published, broadcast, rewritten or redistributed. We strive to uphold our values for every story published.