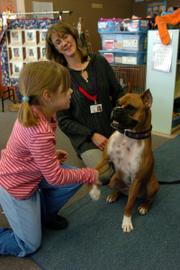 Tally doesn't quite look or act like the others in her second-grade class. Maybe it's the perky ears. Or the fur and the stub of a tail. Or the scratching.
However, like the other students in Lisa Clark's class at Schwegler School, Tally is there to get an education - the 17-month-old boxer is learning the basics of being a therapy dog.
Tally is owned by Canine Assistance, Rehabilitation, Education and Services Inc. in Concordia.
Tally is the 12th service puppy that Clark has socialized at Schwegler in about as many years. The other dogs went on to get training as certified therapy dogs, which can help people with physical disabilities and be used in group homes or even schools.
"The kids and the grown-ups here at Schwegler have really taken to this little dog," Clark said.
Another teacher at the school brought up the idea that Tally might become Schwegler's own certified therapy dog. The canine services program agreed.
"Tally has been helping a lot of kids, already," Clark said.
For example, as part of her socialization, the dog listens quietly while children read to her.
"She helps kids when they are feeling upset or sad. Just having her there and stroking them can calm," Clark said. "There's even research that shows it can lower your blood pressure."
Clark's classroom is Tally's home base. But other faculty members can sign up to take her to other classrooms or can get her at unscheduled times when someone needs her.
The big next step in Tally's education is to get more training, such as learning 42 obedience commands. When fully certified, she can go into retail stores, hospitals or anywhere else in public.
But it costs $500 to go through the weeklong training course in Concordia.
That's where Gretchen Boxberger and Mary Reed-Weston, two girls in Clark's class, stepped in.
Gretchen and Mary came up with a plan to raise the money to send Clark through the program, plus pay for her hotel and expenses.
The 8-year-old girls talked with the principal about their idea. They even bravely stood in front of a class of sixth-graders to ask for help.
The girls organized making handmade necklaces, bracelets and other items at the school that were given away for donations of any kind.
"We have over $100 and we're trying to raise $600," Gretchen said. Clark said the PTA is also pitching in on the cost.
Meanwhile, Tally will continue to act as an educational emollient, helping to smooth out problems that might arise at the school.
"She's very lovable," Mary said, laughing as Tally licked her face. "She's a kisser."
Copyright 2018 The Lawrence Journal-World. All rights reserved. This material may not be published, broadcast, rewritten or redistributed. We strive to uphold our values for every story published.