Photo Gallery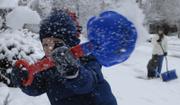 Winter weather
The snow that fell on Lawrence by Tuesday morning created a pain for motorists and again forced homeowners to bring out the snow shovels.
But for Amanda Rose, a Free State High School sophomore, it meant sledding down the hill at Centennial Park and going home, eating chicken-noodle soup and relaxing after classes were canceled for the third time this school year.
Tuesday's snow day means that members of Lawrence school board will likely decide between adding minutes to the school day or adding a whole day to meet state instructional criteria, which is 1,116 hours.
"I was like, whatever, I'd rather have a break in-between," Rose said Tuesday morning.
Jennifer Schack, 6News chief meteorologist, said the storm hit the area and dropped anywhere from 1 to 4 inches around parts of Lawrence and about 3 inches downtown. The storm picked up steam and carried heavier snowfalls as it moved across Indiana and Ohio on Tuesday.
"We really were on the back edge of the storm as it developed," Schack said.
The rain that preceded the snow created a sheet of ice under the snow on sidewalks and streets.
State highway, county road and city street workers worked to plow the way for traffic. Law enforcement agencies reported no major injury accidents, just a few slide-offs and fender benders.
Lawrence police spokeswoman Kim Murphree said Tuesday afternoon that officers had responded to 15 noninjury accidents.
Residents attempted to clear their sidewalks and driveways Tuesday morning.
"As soon as it stops I try to get out here because that's when the snow is the lightest," said Madina Salaty, as she shoveled near Ninth and Illinois streets.
The low temperatures and 30 mph wind gusts did make it brutally cold outside. The wind is expected to die down today, but the forecast high is 18 for today and 17 for Thursday, Schack said. The snow may begin to melt Friday as temperatures climb above freezing.
The freezing temperatures apparently kept most students and school employees at home. Businesses didn't report a sharp spike in traffic, even for the afternoon matinees.
"More than usual, but not by much," Jon Ratzlaff, a manager at South Wind 12 theaters, 3433 Iowa, said of business.
As Lawrence and other area school districts took the day off, KU students made the trek through the snow, ice and blustery winds. St. Lawrence Catholic Center offered cups of hot chocolate to anyone who walked by as a way to promote a an upcoming retreat.
"The hot chocolate is gone, so I'd assume the first hour went pretty well," said Gregory Wellnitz, a Neosho Rapids junior and a church staff member.
Copyright 2018 The Lawrence Journal-World. All rights reserved. This material may not be published, broadcast, rewritten or redistributed. We strive to uphold our values for every story published.