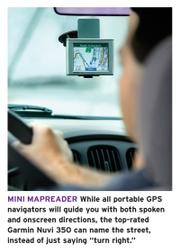 A portable GPS navigation system might be well worth the expense if you often travel to new places, have map-reading issues or simply hate asking for directions.
Although not as easy to use as the best built-in systems in new vehicles, portables can be moved from car to car - including rentals - and most will fit easily in your luggage. What's more, they generally cost less than built-ins, and there's no monthly fee involved - unless you opt for the real-time traffic reports available with some models.
Like built-ins, portables have a map-display screen driven by an internal database. An integral antenna receives Global Positioning System (GPS) information to determine your whereabouts. You pick a destination by entering an address or selecting from "Points of Interest" such as restaurants, gas stations and ATMs, and the device guides you with both spoken and onscreen directions.
Although our tests focused on the units' navigation performance, some portables include features such as Bluetooth compatibility, MP3 players and photo viewers. All units now have preloaded U.S. maps. Models with text-to-speech capability can identify streets by name - a very useful feature. Real-time traffic information is increasingly available, but expect to pay a subscription fee.
While they'll usually get you to your goal, no portable navigation system is perfect, and none should substitute for local knowledge. Some in our lineup, however, stood out from the rest.
Best overall for their combination of portability and performance were the top-rated Garmin Nuvi 350 ($600), the Magellan RoadMate 3050T ($600) and the TomTom GO 510 ($600). The Garmin is compact and easy to program. The Magellan, also easy to program, has large controls and can receive real-time traffic reports. Compact despite a larger screen, the TomTom also programs easily and can receive real-time traffic through a Bluetooth phone.
For portable navigation on a budget, consider the TomTom One ($450) and the Garmin StreetPilot i5 ($350). Both are CR Best Buys.
Like its more expensive brandmate, the TomTom One is compact and easy to program. It, too, uses a Bluetooth phone for real-time traffic reports. Among the least expensive units we tested, the Garmin Street Pilot i5 has a small screen and uses a roller-wheel control instead of a touchscreen. It runs on AA batteries.
All or most of these models should be in stores through April.
Copyright 2018 The Lawrence Journal-World. All rights reserved. This material may not be published, broadcast, rewritten or redistributed. We strive to uphold our values for every story published.