College Park, Md. — Burdened with a four-game losing streak for the first time in 11 years, Duke coach Mike Krzyzewski wasted no time in deciding the proper course to right his struggling team.
"I'll do whatever I can," he said Sunday, moments after a 72-60 loss to Maryland. "I'm not going to punt, let's put it that way."
James Gist had 16 points and 10 rebounds, freshman Greivis Vasquez scored a season-high 18, and Maryland forced 17 turnovers in handing No. 16 Duke its most lopsided defeat of the season.
The Terps trailed early before taking control with a 29-4 run in the first half, then used a late surge to hold off a comeback bid by the skidding Blue Devils.
"They're not going away," Maryland coach Gary Williams said. "They have too much pride."
Josh McRoberts scored 20 points, and Greg Paulus had 12 for Duke. The Blue Devils' previous three losses were by a combined nine points, but this turned out to be Duke's most lopsided ACC defeat since a 14-point loss to Wake Forest in February 2003.
"Of the four games, the other three we had a chance to win," Krzyzewski said. "This game, something a little more extraordinary had to happen for us to win."
Duke's last four-game losing streak was from Jan. 3-13, 1996.
"It doesn't feel good," Paulus said. "It's not panic mode, but we have to get better. We're not playing well enough. It's that simple."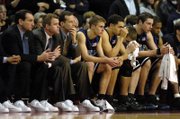 Washington 64, No. 25 Stanford 52
Seattle - Spencer Hawes scored 18 points, and Jon Brockman added 14 points and 10 rebounds for Washington.
Hawes started for the first time in seven games and outscored plodding Stanford 8-4 during the first 10 minutes of the second half, when the Cardinal made just one of their first eight shots. He also finished with seven rebounds.
Washington kept its flickering NCAA Tournament hopes alive by winning for the fifth time in six games. The Huskies have won nine of their last 10 home games against ranked teams.
Stanford's Lawrence Hill scored 15 points after missing all 10 of his shots in Thursday night's loss at No. 14 Washington State. It wasn't enough, as the Cardinal lost for the third time in four games since beating then-No. 3 UCLA.
Copyright 2018 The Associated Press. All rights reserved. This material may not be published, broadcast, rewritten or redistributed. We strive to uphold our values for every story published.