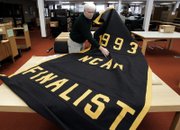 Ann Arbor, Mich. — The Fab Five's tangible accomplishments are rolled up, wrapped in plastic and tucked away in the basement of the University of Michigan's Bentley Historical Library.
A blue banner with "1993 NCAA Finalist" in maize lettering was unfurled earlier this week for an Associated Press reporter and photographer for the first time since it was taken down from Crisler Arena's rafters in 2002.
Chris Webber knows that banner and one from 1992 are out of sight because of the school's self-imposed sanctions, but insists the Fab Five never will leave the public consciousness.
"You can't think of Michigan without thinking of us," Webber said in an interview with the AP.
Michigan's Fab Five went to their first of two straight NCAA championship games 15 years ago, when the freshmen's style and swagger transcended the basketball court.
Webber, Jalen Rose, Juwan Howard, Jimmy King and Ray Jackson set trends with fashion and turned heads and dropped jaws with a brash style of play not seen before. They captivated younger generations of fans - and disturbed some older ones - by strutting, shouting and slamming like they were on a playground, not playing before thousands in arenas and millions on TV.
Where are they now?
Here's a look at Michigan's Fab Five at a glance, with their roles 15 years ago, what they're doing now and a comment on each from Chris Webber:
Jalen RoseThen: Point guard who could score, pass and defend while playing with moxie.Now: Seldom-used reserve for the Phoenix Suns.Webber: "Jalen was our leader. His swagger we really followed."
Juwan HowardThen: The power forward was the first to commit to Michigan, making him a recruiter.Now: Averaging nearly 10 points a game as a key player for the Houston Rockets.Webber: "Juwan was the technician. Mr. Fundamentals, Mr. Professional."
Chris WebberThen: Explosive center talented enough to be the NBA's No. 1 pick overall in 1993.Now: Rejuvenated five-time All-Star in his first month with new team, the Detroit Pistons.Webber: "I just waited for everybody to give the word, and I would attack like a dog."
Jimmy KingThen: High-flying wing player who dunked often and defended well.Now: Financial adviser for Merrill Lynch in Ann Arbor, Mich., and rec-league player.Webber: "I remember him shutting down Bobby Hurley and playing any position."
Ray JacksonThen: Unsung wing player, who deferred to his teammates offensively.Now: Runs a moving company in Austin, Texas, and a not-for-profit group for kids.Webber: "Nails and screws that made us fit so perfect."
"We were so much either loved or hated and judged by the way we looked," Rose said. "Back then, it was 'Oh, look at these hoodlums, these thugs, these gangsters,' because we had big shorts, because we had black shorts and black socks. But then once Michael Jordan and the Bulls started wearing them, once mainstream America started to wear them and corporate America embraced it, then I guess it became cool."
Instead of using the Fab Five's legacy to boost its now-lackluster basketball program, Michigan awkwardly avoids the tarnished era that led to what the school president called a "day of great shame," on Nov. 2, 2002, when self-imposed sanctions were announced.
The NCAA added more program-crippling punishments later, including forcing the school to disassociate from Webber and three non-Fab Five players for 10 years, after a federal investigation revealed that now-deceased booster Ed Martin gave them more than $600,000 while they were student-athletes.
Athletic director Bill Martin said the four Fab Five players not involved were welcome back, but that doesn't appease Jackson.
"If they don't accept Chris, they don't accept any of us because without Chris, there is no Fab Five," Jackson said. "The fact that we can't even be embraced by our own university puts a black eye on everything for me."
And it hasn't been good for the current basketball program at a school and in a community that makes football the first, second and third priorities. Michigan hasn't been to the NCAAs since 1998, and the tournament drought will be extended if it doesn't close the season strong.
"We can't bring back all of our glorious past and wonderful days of Michigan basketball that so many people identify with," said Michigan coach Tommy Amaker. "Those unfortunate circumstances haven't helped us."
Freshman forward DeShawn Sims agreed.
"It hurts the basketball program that a guy like Chris Webber can't come back because we look up to him," Sims said.
Life was good in the bright lights for the Fab Five at Michigan, but the behind-the-scenes highlight for them happened when the two Detroiters (Webber and Rose), Chicagoan (Howard) and Texans (King and Jackson) were on campus together for the first time in the fall of 1991.
On the court outside of South Quad, they played against their fellow dorm residents and anybody else that wanted to take them on.
"That was a memory I'll always cherish," said Howard, who recruited the other four players after committing to the school. "That was the start of something special."
He said it depressed and disappointed him when he looked up in the rafters when he was back in town for a football game.
"I wandered inside the arena and to not see the banners up there, to see our records erased from the book, that's painful," he said. "Hopefully, some time in the future, they can put it back up there. I'd like to go back there someday and be able to hang my head up high, see those banners and say, 'Hey, I was a part of that."'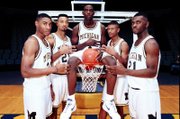 Rose said the removal of the banners won't diminish the Fab Five's legacy and might even enhance it.
"The one thing about being famous is people forget about you. One thing about infamy, people have to remember you," Rose said. "And because of that, at the end of the day, what we brought to the game can never be taken away. So we'll never be forgotten."
Copyright 2018 The Associated Press. All rights reserved. This material may not be published, broadcast, rewritten or redistributed. We strive to uphold our values for every story published.