At age 55, Linda Strole considered herself healthy.
"I walked the dog and took care of the kids," the Lawrence resident said. "I went to the doctor regularly."
But she will never forget Feb. 29, 2004.
"It was a Sunday and I got up and just didn't feel right," she said. "I was kind of achy and stuff. I just couldn't really get comfortable. ... It was in my back - kind of a stiff back. Then all of a sudden - this was after hours - I started sweating and I felt like I was going to faint."
Strole's husband took her to Lawrence Memorial Hospital, where doctors tested her and found blockage in an artery. She was taken by ambulance to Kansas University Hospital, where she received a stent, a wire metal mesh tube used to prop open an artery.
Strole had suffered a heart attack.
"It doesn't run in my family," she said. "It never crossed my mind."
It also surprised her son Nick, 18.
"I never expected her to have a heart attack," he said. "She just lived a life like a normal person and ate as healthy as other parents. Sometimes she had bad eating habits, but it wasn't extreme."
Strole hopes others take the symptoms of a heart attack as seriously as she did.
According to Sally McGee, clinical nurse specialist at Cardiovascular Consultants in Lawrence, the symptoms can include shortness of breath; pain in other parts of the body such as arms, neck or back; excessive sweating; unexplained fatigue; and heartburn.
Educating women
Strole said she feels lucky to be alive considering that coronary heart disease is the No. 1 killer of women older than 25.
According to the American Heart Association, one in 2.5 women die of heart disease or stroke, compared with one in 30 from breast cancer.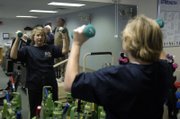 Strole said she remembers vacations where she could barely keep up with her sons.
"I just thought it was part of growing older," she said.
But after three years of increased exercise and cutting down on fast food, she hasn't had heart problems.
"We took a trip to London and Paris last spring and I was able to keep up without resting," she said.
Strole said she is like many women who put their families and jobs first.
"I've learned that taking care of yourself is part of helping others," she said.
Belinda Rehmer, LMH communications coordinator, said of the 469 patients who visited the Bob Billings Cardiac Evaluation Center in 2006, 48 percent were female.
In good company
Mike Walters, exercise physiologist in the LMH Cardiac Rehabilitation Center, said heart disease can strike at any age. He said the center recently had patients ranging in age from 12 to 80.
He also said heart disease can strike "all walks of life." He said everyone has to work at being heart healthy - even athletes.
Of special concern are people in their 40s and 50s, Walter said. They typically don't take care of themselves because they are too busy with families and careers. They also tend to be "set in their ways."
Strole agrees and hopes to motivate others to become heart healthy as a speaker at Lawrence's Go Red For Women Luncheon on Valentine's Day.
She said she has found her inspiration from others at the center that serves about 80 people daily.
James Rowland, 73, of Lawrence, is among those people.
He's had quadruple bypass surgery and also finds his incentive to exercise at the center.
"The staff is terrific, and this is a good group of people," he said while peddling a bicycle.
Lesley Ketzel, 79, of Lawrence, received a stent Dec. 18 after her doctor became concerned about her high cholesterol and put her through a stress test.
Ketzel said the center's dietitian has taught her the difference between good and bad fats and how to modify recipes. She also has started bicycling at home - something she had quit doing before the surgery.
On Dec. 7, Bruce Smith, 59, of Lawrence, underwent a heart transplant.
Smith said before the surgery he needed a walker and had no energy. But today, he is exercising and standing on his own.
"I didn't know if I would make it," he said.
Heart healthy events
¢ Lawrence Memorial Hospital is having a Healthy Heart Fair from 8 a.m. to 11 a.m. today at the hospital, 325 Maine. There will be free screenings and exhibits on topics such as hypertension, diet, smoking cessation, heart attack risk and diabetes.
¢ The Lawrence Go Red For Women Luncheon will be from 10:30 a.m. to 1 p.m. Wednesday at the Lawrence Holidome, 200 McDonald Drive. The event will include a fashion show, silent auction, keynote address, and blood pressure checks and cholesterol screenings from Lawrence Memorial Hospital. The cost is $50. To purchase tickets, call Jamayla Long, special events director for the American Heart Association, at (913) 652-1907. The deadline to register is 3 p.m. Monday. The event benefits the American Heart Association and its mission of fighting heart disease and stroke.
Copyright 2018 The Lawrence Journal-World. All rights reserved. This material may not be published, broadcast, rewritten or redistributed. We strive to uphold our values for every story published.