Florida won the recruiting crown in nearly as dominating fashion as the national championship.
The Gators capitalized on last month's national title win over Ohio State and down years from Sunshine State rivals Florida State and Miami to bring in the top recruiting class in the country Wednesday.
"No one is even that close to them," recruiting analyst Tom Lemming of CSTV said. "They got help everywhere. In the past 10 years, this has to rank right at the top in recruiting classes. Every position is absolutely loaded."
The Gators also were picked as the top class by SuperPrep, Rivals.com and National Blue Chips, beating out Southern California, SEC rivals Tennessee and LSU, and Texas.
The Trojans closed strong, adding top running backs Joe McKnight from Louisiana and Broderick Green from Arkansas on Wednesday to a class that already included another top back in Marc Tyler; defensive end Everson Griffen, SuperPrep's No. 1 overall player; the nation's No. 1 receiver, Ronald Johnson from Michigan; and blue chip linebacker Chris Galippo from Anaheim, Calif.
"USC continues to be the place that a lot of skill-position players look to first," said analyst Bobby Burton of Rivals.com. "That doesn't mean the guys they get on defense aren't special. It just means they have the pick of the litter when it comes to offensive skill players."
But the Gators' class was best of all, signing nine of the top 16 players in talent-rich Florida and the No. 1 players from South Carolina, Indiana, Maryland and New England, according to Rivals.com.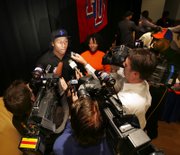 A coaching change at Miami and another down year for Florida State played a key part in the Gators' success.
"They play an exciting brand of ball on offense and defense and a lot of kids want be in that situation," said Allen Wallace, the national recruiting editor for Scout.com and publisher of SuperPrep magazine. "There's no question they've moved into the catbird seat in Florida. They have taken advantage of tough times for both the Hurricanes and Seminoles."
Florida's class includes Rivals' third-best pro-style quarterback in John Brantley, the nation's top guard in James Wilson, top weakside defensive end in Carlos Dunlap, second-best defensive tackle in Torrey Davis, and top two safeties in Jerimy Finch and Major Wright.
Two recruits from last year's stellar class, quarterback Tim Tebow and receiver Percy Harvin, played key roles in the 41-14 win over Ohio State in the BCS title game, and coach Urban Meyer is hoping for similar production from some of the players in this year's class.
"We have taken a new attitude toward recruiting this year that every freshman in my opinion will play next year," Meyer said. "Obviously, that won't happen but we are taking that approach. It used to be, 'Boy, I will be able to save this guy.' But that's over."
Bringing in the best
The Top 10 teams on signing day as rated by SuperPrep, CSTV, Rivals.com, and National Blue Chips - four of the country's top recruiting reports:SuperPrep - Allen Wallace 1. Florida2. Southern California3. LSU4. Tennessee5. Texas6. South Carolina7. Auburn8. Michigan9. Oregon10. Notre DameCSTV - Tom Lemming1. Florida2. Tennessee3. Texas4. Southern California5. LSU6. South Carolina7. Notre Dame8. Nebraska9. Auburn10. GeorgiaRivals.com - Bobby Burton1. Florida2. Tennessee3. Southern California4. LSU5. Texas6. South Carolina7. Auburn8. Notre Dame9. Georgia10. MichiganNational Blue Chips - Max Emfinger1. Florida2. Southern California3. LSU4. Tennessee5. Texas6. Auburn7. South Carolina8. Ohio State9. Notre Dame10. (tie) Georgia10 (tie) Alabama
Copyright 2018 The Associated Press. All rights reserved. This material may not be published, broadcast, rewritten or redistributed. We strive to uphold our values for every story published.