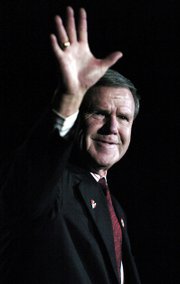 Louisville, Ky. — The coach in Denny Crum is still there, percolating under the ever-present grin and just-so hair. But these days, the former Louisville coach keeps his opinions to himself.
"My wife doesn't want to hear it anyway," Crum said with a laugh.
So instead, the man who led the Cardinals to 675 wins and a pair of national championships simply watches from the stands at Freedom Hall, trying his best to blend in with the rest of the 18,000 red-clad Louisville supporters.
Of course, when you spend three decades building a program into one of the nation's best, blending in can be a little difficult. During a recent Louisville home game, Crum received a standing ovation when an in-house camera panned to him during a timeout.
The ever-bashful 69-year-old Crum simply waved and looked away, almost embarrassed by the outpouring of support.
"I didn't even realize why they were cheering," Crum said. "My wife had to poke me."
Crum won't need to be prodded Wednesday night, when the university dedicates Denny Crum Court at Freedom Hall before the Cardinals face Georgetown.
It's an honor that was hard to imagine six years ago, when Crum abruptly retired after losing a battle of wills with Louisville athletic director Tom Jurich following a 12-19 season in 2000-01.
"It was disappointing the way it all had to happen," Jurich said. "But it was a fact of life that we had to face. I wish it would have been different. One of the reasons I came here was because of Denny Crum. That made it more difficult."
Looking back, however, Crum views his retirement as a blessing. While the passion to coach still bubbles up from time to time, he's focused on finding a life away from crowded gyms on cold winter nights.
He's more likely to carry a fishing pole these days than the folded-up program he'd smack against his hands during games, a habit he picked up from his mentor, former UCLA coach John Wooden.
"I've really enjoyed my life since I stepped down," Crum said. "I spent my whole life coaching. I didn't know what a normal life was. But after a few months of living in a different world, I really enjoyed having the kinds of freedoms that I never had as a coach."
Copyright 2017 The Associated Press. All rights reserved. This material may not be published, broadcast, rewritten or redistributed. We strive to uphold our values for every story published.