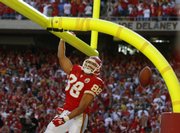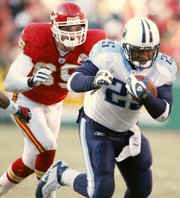 -->
Tony Gonzalez
It's the ninth time in his 11-year career that Tony Gonzalez has been voted to the Pro Bowl team. Despite playing on an offense that ranks near the bottom of the league in most statistical categories, the hardworking veteran has 82 catches, second among all NFL tight ends, and is tied for second with 971 yards receiving.
He became the all-time touchdown leader among NFL tight ends this season with 66.
Gonzalez is famous among his peers for hard work and dedication to his craft. One more season will almost certainly make him the most productive player at his position in league history.
He'll go into Sunday's game against Detroit second in NFL history among tight ends with 9,681 yards receiving, 380 yards behind Shannon Sharpe. His 803 career catches are 13 behind Sharpe.
His one regret may be that he never got to play in a Super Bowl. He'll be 32 next season, and the Chiefs will be deep in a rebuilding program. They've lost seven in a row and fallen to 4-10.
"I think about that a lot," he told the Associated Press on Monday. "All the time. I was thinking about it this morning while I was lifting weights. Really, I'm getting a little scared about it. I always felt that I was going to be able to get a championship as a Chief. But that's something that I can't get out of my mind now."
Despite all that he has accomplished, Gonzalez is often the last player to leave at night because he stays late and studies film and works out.
"For Tony to keep a streak like that, nine in a row, that's hard to do in today's NFL," said Chiefs coach Herm Edwards. "And with him being on the same team, you're talking about a guy who's played with a lot of different quarterbacks over his career. When you're a receiver, that has a lot to do with what you do. To be voted in by his peers, players, coaches and fans says a lot about what he's accomplished."
Jared Allen
Defensive end Jared Allen's first selection puts a pleasing exclamation mark on a season that began in a cloud of controversy for the fourth-round pick from Idaho State. The 6-foot-6, 270-pounder was suspended for the first four games after multiple drunken-driving convictions. But he promised to quit drinking, and commissioner Roger Goodell cut the suspension in half.
After sitting out two games, Allen burst upon the scene and quickly established himself as one of the game's premier defensive ends. He's tied for sixth with 111â2 sacks and has four multi-sack games.
"It's like the pinnacle of my career - what I worked so hard for so many years," he said Tuesday. "There were times I thought I'd get it, and times I thought I wouldn't. This is just an awesome feeling. But I'm going to keep working hard and maintain it."
Allen is the first Kansas City defensive lineman to make the Pro Bowl since Neil Smith and Dan Saleaumua in 1995. Allen's Pro Bowl support may have been helped by the way people admire his courage in turning his life around.
"I was always raised that a man has to have great character," he said. "The measure of a man is what you do when no one is around and how you handle adversity. You can go two ways. You can bury yourself and just use it as a crutch and an excuse. Or it can motivate you and you can prove everybody wrong by working hard."
Unlike Gonzalez, who was a first-round draft choice in 1997, Allen came into the league with few expectations.
"We're not winning a lot of games, but his play kind of demonstrates who he is and sets him apart," said Edwards. "It's hard to get picked your first year on a team that's not a playoff team."
Copyright 2018 The Lawrence Journal-World. All rights reserved. This material may not be published, broadcast, rewritten or redistributed. We strive to uphold our values for every story published.