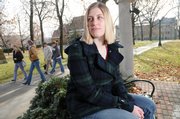 Jaci Kettler has had anything but a typical college experience.
The soon-to-be Baker University graduate received a diagnosis of non-Hodgkin lymphoma just after she completed her sophomore year. Though she spent nine days in a medically induced coma, she bounced back and didn't miss a semester of class.
On Sunday, Kettler will graduate with degrees in political science and international studies in just four and a half years. She even studied abroad during that time.
"No one suspected cancer because I was young and healthy," said Kettler, of Williamsburg. "The experience made me able to empathize. It gave me a life experience that is fairly unique."
Kettler said she chose to attend Baker because she wanted to go to a school where she knew she would be able to get to know her professors and classmates - and staying close to her family was a benefit too. Both being near home and the small community proved to be beneficial when she received the cancer diagnosis.
"The amount of support I had while in the hospital was great," Kettler said. "I got cards from people I didn't even know."
Her mom, Sondra Kettler, said watching her daughter go through cancer was an unexplainable experience.
"It's the worst thing that can happen to a parent - to have a child diagnosed with cancer," Sondra Kettler said. "We didn't even know if she could survive the pneumonia she had, let alone handle the cancer."
Jaci Kettler not only survived pneumonia, but her cancer has been in remission.
"She was really incredible through it all," Sondra Kettler said. "She was bound and determined to get back in school. I'm very proud of her. I admire her strength and determination."
And now, Jaci Kettler is preparing to go to school to get her doctorate, also in political science. She wants to eventually teach political science at a university and perhaps, become involved with state-level politics.
She has applied to graduate schools at Vanderbilt, Rice, the University of North Carolina and Duke. She acknowledges that moving to one of those colleges would be a big change for a woman who grew up in Williamsburg, which has about 360 people, and attending Baker, which has an enrollment of about 1,000 students.
"I'm just excited about the prospects of living a little different life," Jaci Kettler said. "It will be good for me to step out of my comfort zone."
Copyright 2017 The Lawrence Journal-World. All rights reserved. This material may not be published, broadcast, rewritten or redistributed. We strive to uphold our values for every story published.