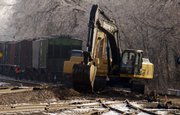 Burlington Northern Santa Fe Railway is trying to determine what caused six train cars to derail early Thursday on a side track in east Lawrence. The cars, which were carrying wheat, did not overturn, BNSF spokesman Steve Forsberg said.
The derailment occurred at 12:30 a.m. east of 11th Street and Haskell Avenue. There were no injuries or collisions. "The train was only moving at a speed of 4 mph when the cars derailed," he said.
Forsberg speculated that the train was going to take the cars to Kansas City before they would be sent to another destination. Crews worked all day Thursday repairing the tracks and were to continue Thursday night.
The city of Lawrence closed 11th Street east of Haskell, and Douglas County closed County Road 1550 on the east side of the derailment. They will remain closed until track repairs are completed.
Copyright 2018 The Lawrence Journal-World. All rights reserved. This material may not be published, broadcast, rewritten or redistributed. We strive to uphold our values for every story published.