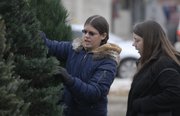 On the street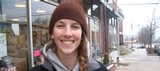 I look for one that's fat and spunky. One that's asymmetrical and has some awkward branches. It has to have some character.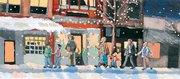 Holiday music events, gift ideas, activities for kids, food, decor & much more!
With all the good cheer that comes wrapped up in this time of year, by far one of the more memorable adventures is choosing a live Christmas tree and bringing it home to decorate.
In my great tree endeavors, I've gone to tree farms, groceries and hardware store parking lots. Once while a poor college student, my roommate and I scavenged the wilds with a hand saw and retrieved a classic Charlie Brown tree. In hindsight that tree, while adorable, was a fire hazard in the making. Its needles shed buckets a day.
While thinking of that tree, and others that I made rather hasty decisions about in the flurry of the holiday hoopla, I thought a tree guide might be in order.
Top trees
Lyn Walther, co-owner of Strawberry Hill Christmas Tree Farm, says, "Scotch pines, Fraser firs and the Austrian pine all stand up well indoors. The balsams seem to have the shortest lifespan inside the home."
Scotch and Austrian pines are especially grown for Christmas trees, according to Walther. It will take seven to eight years for the trees to mature enough to be a proper Christmas tree. In the meantime, the trees are providing oxygen and the service of purifying the air as they grow. Many tree farmers also will point out that the land they use to actually grow the trees is often poor and lacking the nutrients to sow anything else there. As each tree is cut, those farmers plant a new tree in its place, replenishing the cycle.
The choices
¢ Scotch pine has medium-length needles that are green to blue in color. Some popular characteristics of the Scotch are its excellent needle retention and sturdy branches for homes with heavy ornaments.
¢ Austrian pine has a dense growth habit and sports long, dark green needles. The boughs are quite strong and will withstand large, heavy ornaments.
¢ White pine has long, soft needles that grow in bunches of five. They are blue-green in color with a white hue. This tree works best for smaller intricate ornaments and lights as its branches will droop under too much weight. The white pine retain its needles very well. Note: Allergy sufferers have been known to have no adverse reaction to the white pine.
¢ Fraser fir has short, strong, soft needles with a silver underbelly and is dark green on top. The Fraser is stately looking, with sturdy boughs and long-lasting needle retention.
Tender to the touch
Are you like me with tender, prone to sun-burning skin, and wanting a tree that won't reach out and bite you? If so, soft needles are what we seek.
Soft needles have become my personal litmus test of whether a tree can be invited into our living room, and apparently white pines have taken the cake on these criteria, with Fraser firs coming in a close second.
Oh, that smell
"Fraser Firs are definitely the most fragrant," Walther says. "Customers comment on the fragrance of the wreaths made out of Scotch pine. I don't notice much fragrance unless it is a Fraser or maybe some juniper mixed with the Scotch pine is present."
I can attest that the Fraser smells terrific. We purchased one this year, and every time I walk past it I think I've entered the Enchanted Forest.
Keep the tree watered
The lifespan of a cut tree inside of our homes is mostly dependent on how we care for it. Water is paramount- put that big conifer in H2O the minute you get home and never let it dry out. Start with a fresh cut on the bottom of the trunk so the tree can more easily absorb water. Also try to keep it away from heating vents, or if you have to nestle your giant new friend next to a vent, close it. The same is true of the fireplace - those blazing logs can dry up a tree quickly, not to mention the added dangers of a random sparking ember.
Holiday accouterments
For those touches from Mother Nature that are not associated with the actual tree, John McCaffrey, owner of Bittersweet Garden & Floral, has some suggestions.
"I like magnolia, camellia, boxwood, incense cedar, seeded eucalyptus and holly for last-minute touches," McCaffrey says. "All pines are good, but keep in mind that you cannot use pine in vase arrangements because the sap clogs the other flowers. Bay is also an excellent flora; it has a lovely aroma and makes a fabulous wreath."
The cleanup
There is no need to hassle with preservatives in the water, sugars, aspirin, lime soda or any other urban myth. Good old tap water will keep your conifer quite happy until the day you need to drag it to the curb. That's when sanitation workers will collect your holiday memory, shred it and make it into mulch, returning it back to the earth, the ultimate recycling.
Kathy Heeb, owner of Prairie Elf Christmas Tree Farm, has some cleanup tips.
"When it comes to easy cleanup, if a tree has been processed on a shaker, most old needles are removed," Heeb says. "However, I think the Austrian pine is the best for cleanup due to its long needles."
Copyright 2018 The Lawrence Journal-World. All rights reserved. This material may not be published, broadcast, rewritten or redistributed. We strive to uphold our values for every story published.