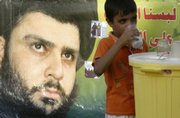 Baghdad — Shiite cleric Muqtada al-Sadr has ordered a six-month suspension of activities by his Mahdi Army militia in order to reorganize the force, and it will no longer attack U.S. and coalition troops, aides said Wednesday.
The announcement, a day after Mahdi Army members were accused of inciting clashes in Karbala that killed at least 52 people, seemed to be an admission that the militia, which twice fought brutal uprisings against U.S. troops and has been blamed for thousands of death-squad killings, was no longer under Sadr's control.
Sheik Hazim al-Araji said on Iraqi state television that the goal was to "rehabilitate" the organization, which has reportedly broken into factions, some of which the U.S. maintains are trained and supplied by Iran.
"We declare the freezing of the Mahdi Army without exception in order to rehabilitate it in a way that will safeguard its ideological image within a maximum period of six months starting from the day this statement is issued," al-Araji said, reading from a statement by al-Sadr.
In Najaf, al-Sadr's spokesman said the order also means the Mahdi Army will no longer launch attacks against U.S. and other coalition forces.
"It also includes suspending the taking up of arms against occupiers as well as others," Ahmed al-Shaibani told reporters. Asked whether Mahdi militiamen would defend themselves against provocations, he replied: "We will deal with it when it happens."
The order was issued after two days of bloody clashes in the Shiite holy city of Karbala that claimed at least 52 lives. Iraqi security officials blamed Mahdi militiamen for attacking mosque guards, some of whom are linked to the rival Badr Brigade militia.
A spokesman for al-Sadr, Ahmed al-Shaibani, denied the Mahdi Army was involved in the Karbala fighting. Al-Sadr called for an independent inquiry into the clashes and urged his supporters to cooperate with the authorities "to calm the situation down," al-Shaibani said.
Tensions have been rising in southern Iraq as rival Shiite groups maneuver for power, especially in the oil-rich area around Basra, Iraq's second-largest city.
Al-Sadr organized the Mahdi Army shortly after the U.S.-led invasion in 2003. Since then the Mahdi Army has become the most active and feared armed Shiite group, blamed by the U.S. for driving thousands of Sunnis from their homes in retaliation for Sunni extremist attacks on Shiite civilians.
The Mahdi Army launched two major uprisings against U.S. and coalition forces in 2004. Since then, the Americans have differentiated between the mainstream Sadrist organization and what they term "rogue" elements within the force that have staged numerous deadly attacks against U.S. forces in Baghdad and elsewhere.
Copyright 2018 The Lawrence Journal-World. All rights reserved. This material may not be published, broadcast, rewritten or redistributed. We strive to uphold our values for every story published.