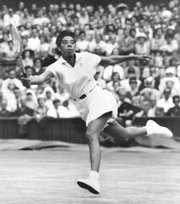 New York — Sheila Johnson grew up dreaming of playing the violin, not tennis.
Even so, Althea Gibson inspired her.
Her school's orchestra director would take the violinists to the courts in the belief swinging a racket would help them in drawing their bows. During those outings, Johnson learned about Gibson, who broke tennis' color barrier in 1950.
Johnson, now 58, went on to establish several firsts of her own as the first black woman to become a billionaire and to hold a controlling interest in a professional sports team.
The broad impact of Gibson's achievements will be saluted Monday during opening night of the U.S. Open. Johnson is one of the pioneering black women from a wide range of fields who will gather to commemorate the 50th anniversary of Gibson's historic title at the U.S. National Championships.
In 1957, she became the first black player, male or female, to win the tournament, which became the Open.
"Althea Gibson probably is one of the most under-celebrated individuals in this country," Johnson said. "It's a shame more people don't know about her."
She hopes Monday's ceremony will help change that. Aretha Franklin, the first black woman inducted into the Rock and Roll Hall of Fame, will perform at the tribute, titled "Breaking Barriers."
Along with Johnson, the BET co-founder and WNBA owner, other scheduled participants include former U.S. Senator Carol Moseley Braun; ex-WNBA star Cynthia Cooper; Winter Olympians Vonetta Flowers and Debi Thomas; tennis player Zina Garrison; astronaut Dr. Mae Jemison; Olympic track and field champion Jackie Joyner-Kersee; and "The Cosby Show" actress Phylicia Rashad.
Friends and admirers wish such a tribute had come sooner, that Gibson could have been alive to see it. They lament that she faced the added barrier of the lack of attention paid to women's sports when she competed.
Gibson, who won 11 Grand Slam titles, died in 2003 at the age of 76.
"I have never felt that as a sport and as a society that we have done justice to Althea," USTA president Jane Brown Grimes said. "I feel finally with this opening night celebration we are."
As a child, Grimes spent summers on Long Island and attended the U.S. Nationals at Forest Hills, where she watched Gibson play.
"I was absolutely awe-struck by her," Grimes said.
Gibson's height - she was 5-foot-11 - and powerful serve would fit right into today's game, but they were a revelation back then.
"Her serve was poetry," Grimes said.
It wasn't until afterward that Grimes realized just how trailblazing Gibson's presence was.
Billie Jean King still remembers reading Gibson's autobiography, "I Always Wanted to Be Somebody," as a kid and seeing Gibson play in Los Angeles. King regrets she didn't realize before giving a speech last Aug. 28 when the National Tennis Center was named in her honor that Gibson's first match at U.S. Nationals also took place on Aug. 28.
Gibson's triumphs are not just an inspirational tale to her friend David Dinkins, the former New York mayor and a member of the USTA board of directors. They are the story of his world, too.
Dinkins was born just over a month before Gibson. When he served in the Marines in the mid-1940s, the training was segregated.
"In that background, one can appreciate what a great achievement hers was," Dinkins said.
A few years later, he met Gibson at Shady Rest, a country club in Scotch Plains, N.J. She was playing pingpong, he recalled. When she pursued a golf career after her tennis days, Dinkins, a lawyer, helped draft an agreement for her involvement in the new sport.
Bill Cosby can still hear the way Gibson would greet him: "Hey, Bill." He also remembers the way his industry stuck her with a sad reminder of the era in which she lived. He said that after winning Wimbledon in 1957, she was offered a role in a Clark Gable movie.
As a slave.
Copyright 2018 The Associated Press. All rights reserved. This material may not be published, broadcast, rewritten or redistributed. We strive to uphold our values for every story published.