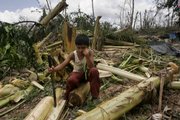 Tecolutla, Mexico — A sprawling Hurricane Dean slammed into Mexico for the second time in as many days Wednesday and quickly stretched across to the Pacific Ocean, then weakened as it drenched the central mountains with rain that flooded houses along the coast.
Coming ashore with top sustained winds of 100 mph, Dean's center hit the tourism and fishing town of Tecolutla shortly after civil defense workers loaded the last evacuees onto army trucks and headed to inland shelters.
There was no escaping the wide storm's hurricane-force winds, which lashed at a 60-mile stretch of the coast in Veracruz state.
"You can practically feel the winds, they're so strong," Maria del Pilar Garcia said by telephone from inside the hotel she manages in Tuxpan, a town some 40 miles north of where Dean made landfall. "I hope this passes quickly and the rivers don't overflow."
Sounds of crashing metal prompted farmer Moises Aguilar to take a dangerous risk in Monte Gordo, 20 miles down the coast from Tecolutla. At the height of the storm, he dashed outside his house, about 300 yards from the sea, and struggled against the wind as his neighbor's roof ripped apart.
"We've closed the curtains because we don't want to see what is going on out there," Aguilar said, his voice nearly drowned out by another crash. "I think that's more metal roofing from my garage."
At 10 p.m. CDT, the National Hurricane Center downgraded Dean to a tropical depression and predicted it would dissipate today over the mountains of central Mexico. The storm's center was 95 miles northwest of Mexico City and was heading westward at near 21 mph.
Mexico had suspended offshore oil production and shut down its only nuclear power plant as tens of thousands headed for higher ground. The state oil company said there was no known damage to any of its production facilities on shore or in the Gulf of Mexico.
Dean struck land Wednesday as a Category 2 storm after regaining some of the force it unleashed on the Yucatan. Its first strike on the peninsula Tuesday as a Category 5 tempest with 165 mph winds was the third most intense Atlantic hurricane ever to make landfall.
Officials said there were no reports of deaths in Mexico directly caused by Dean, which killed 20 people in its earlier sweep through the Caribbean. The toll rose Wednesday when Haitian officials said seven more storm deaths had been reported in remote areas.
Dean's strength fell rapidly throughout the day. Its sustained winds dropped to 85 mph, Category 1, shortly after making landfall in late morning. It was downgraded to a tropical storm by afternoon with winds of near 70 mph, before dropping off to a tropical depression with winds of 35 mph late at night.
But rain was still a big worry. Up to 20 inches of rainfall were expected to swell rivers and soak mountains in a region prone to mudslides and flash floods.
"The water is rising. It's entering the houses now. The children are very frightened," said Maria Luisa Cervantes, who fled her low-lying home with her five children to a shelter in Poza Rica after a flying sheet of metal snapped power cables on to her roof.
The mountain ranges that parallel Mexico's coast are dotted with villages connected by precarious roads and susceptible to disaster. A rainstorm in 1999 caused floods that killed at least 350 people, destroyed tens of thousands of houses and damaged the pre-Hispanic ruins at Tajin.
As the storm dissipated, people in Poza Rica ventured out to assess the damage and found it less than feared. "A lot of homes were left without roofs," said Mariano Gutierrez, the city's civil defense chief. "Many trees fell on public streets and on houses. There are many fallen signs. But so far, thank God, we don't have anything serious."
Producers of corn and sugar cane, however, likely suffered heavy losses in Veracruz, a key agricultural state. Coffee plantations at higher elevations also were threatened by the heavy rains, industry officials said.
Copyright 2018 The Associated Press. All rights reserved. This material may not be published, broadcast, rewritten or redistributed. We strive to uphold our values for every story published.