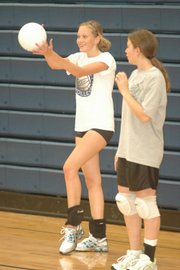 Across the city, freshman volleyball players are taking their first stabs as part of their school's top team.
For some of them, making the move carries with it a few apprehensions, for others it was something they had waited for.
"I wasn't too worried about ninth-grade volleyball," Southwest Junior High freshman Kendyll Severa said. "But we do have a lot of cuts so a lot of the players know they have to get better."
During the first days of practice things don't seem any different than a year ago. The eighth-and ninth-graders go through the same conditioning regimens throughout practice. But the new freshmen will have to deal with a few things not covered in practice.
"One of the main things is the height of the girls," Severa said. "I'm a left-side hitter, and it's going to be a challenge to keep my game going against all the taller players."
The coaches see their incoming freshmen volleyball players deal with a new set of circumstances as well.
"The main difference is that they are playing a tougher schedule," Southwest Junior High head coach Patty Coffey said. "They know that they are stepping it up a notch. They have to adjust to playing a tougher schedule, with more games and playing later into the evening."
Junior high freshman volleyball gets under way Aug. 29 as West and Central travel to Gardner.
Copyright 2018 The Lawrence Journal-World. All rights reserved. This material may not be published, broadcast, rewritten or redistributed. We strive to uphold our values for every story published.