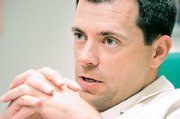 On the surface, not much has changed for Free State High's Mike Hill in recent weeks.
He still arrives at school before 7 a.m. His office is in the same spot. And, each day, when his routine is finished, he spends the minutes between 3:05 and 3:20 in the school's commons area, monitoring students as the buzz bouncing off the walls signals the end of another school day.
But between the hours of 7 a.m. and 3 p.m., in the shadows of Free State's main office, you'll find Hill up to his ears in athletics.
"An additional 20 e-mails and 10 phone calls a day," Hill said, assessing what becoming the school's athletic director has added to his plate.
In the past, as a football assistant and baseball coach, Hill was asked to focus on a couple of Free State programs. These days, as the second athletic director in school history, he has to focus on them all.
Friday marked the end of Hill's first week as Free State's AD. He officially took over for the departed Steve Grant in July, but only in an administrative role and without students. The fall sports schedules were done when Hill stepped in, and that afforded him the opportunity to acclimate himself to the new position. That's not to say it was smooth sailing. When Hill took over, Free State had 14 coaching vacancies. A handful of those remain open, but Hill's not sweating it. Many of them are for spring sports. He has time.
In many ways, the first week with students in the building went by quickly.
"When you're having fun," Hill said. "Time tends to go by fast."
That's not lip service. Hill truly enjoys his new gig, even if it is one he hoped he'd never have.
"Candidly, I had not thought about it," he said. "When Steve (Grant) told me he was going to leave, I tried to talk him out of it. He was just such a great representative for this school. He was so supportive of everything we did."
That's Hill's role now, and he's taken to it nicely. Like Grant, Hill showed this week that he has a smile and a second for everyone. But he's not alone.
Because Hill retained his responsibilities as assistant principal and head baseball coach, Free State principal Joe Snyder and the Lawrence school district devised a way to give him some help. Enter events coordinator Ben Mugridge.
Mugridge, a 1996 graduate of Lawrence High, has been associated with Free State sports for years as an assistant coach for baseball, softball and wrestling. He also served as the football team's film coordinator. His role now is to be Hill's right-hand man.
In charge of organizing extra-duty lists and making sure coaches have what they need when they need it, Mugridge's duties include overseeing all sub-varsity events and attending every home event.
"I enjoy it because it gives me a chance to continue the relationships with people - parents and athletes - that I've had relationships with in the past," Mugridge said.
School administrators enjoy it because they know that, between Hill and Mugridge, the Free State athletic programs are in good hands.
"They know the people and the kids of Lawrence," Snyder said. "And they'll do a great job supporting, leading and doing whatever else is needed."
The final member of the Firebirds' athletics team is secretary Deb Carpenter, whom Hill considers crucial to the department's success.
"She is the backbone of the entire athletic department," he said.
It's too early for Hill to begin thinking about his legacy as the Firebirds AD. In fact, that probably won't ever matter to him. But it doesn't stop him from searching for ways to improve Free State athletics. He has goals for the future, and they include, but aren't limited to, finding a solution the city's facilities dilemma. A community is judged by the way it treats its young people, Hill said. And it's his intention to provide Lawrence's youth with the best experiences they can imagine.
One week into the school year, Hill already has a feel for his new position. The administrative work he's done in the past prepared him for the increased responsibility. His athletic background as a coach, player and fan prepared him for the rest.
"An athletic director at the high school level is kind of like a coach at the high school level, and that is you're a jack of all trades," Hill said.
Copyright 2018 The Lawrence Journal-World. All rights reserved. This material may not be published, broadcast, rewritten or redistributed. We strive to uphold our values for every story published.