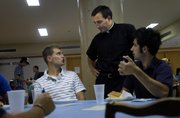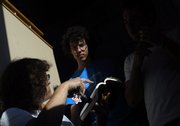 Some Kansas University students shop around for their majors.
Cory Keller shopped around for campus ministries.
After spending half of his freshman year not attending a church-related group, Keller decided to try several of the larger groups on campus.
He didn't find the right fit until he fell in with University Christian Fellowship, a group of 20 to 25 students.
"I would just keep trying things," says Keller, now a junior. "The larger groups aren't going to work for everybody. Some people like that, some people don't. It depends on your walk with your faith."
KU's Web site lists 46 registered student organizations that deal with religion.
Some faiths have one organization representing them. For instance, the Muslim Student Association is an umbrella for those of the Islamic faith, and Wisdom of Peace and Buddhism appears to be the only registered student organization promoting Buddhist thought.
Judaism is represented by several organizations - the Chabad Jewish Center and Hillel for all Jewish students, and Yididot for Jewish women.
Church background
Things get more difficult when it comes to sorting out Christian organizations; more than 30 of the groups represent Christian denominations.
For some students, the choice can be fairly easy. They latch onto the student ministry that is affiliated with the church of their upbringing.
That's the case with most of the Jayhawks who attend the St. Lawrence Catholic Campus Center, 1631 Crescent Road.
The Rev. Steve Beseau, the center's director, worked a booth at a student organization information fair this week.
"Most of the freshmen who came ... you could see the look of relief in their faces, as if there is somebody there from home," Beseau says. "They were very happy to see a priest. It's some stability in the midst of all this turmoil."
He estimates 200 to 250 students take theology classes at the center each year. The opening barbecue, which was Wednesday, also is popular.
Though most of the students who attend the St. Lawrence center started off Catholic, Beseau says 25 to 40 students decide to convert to Catholicism each school year.
Taste test
For students who don't have a faith background or might be disillusioned with the church of their upbringing, things can be even more difficult.
Thad Holcombe, director of Ecumenical Christian Ministries, 1204 Oread Ave., knows that finding the right fit can be a challenge when it comes to campus ministries.
He suggests visiting Web sites (a list can be found at www.ku.edu/organizations) and attending several meetings.
"This is a time for them to review and taste a little bit of everything," Holcombe says, "so they can find something to their liking."
He also suggests talking to a variety of older students to get ideas about the ministries they've been a part of.
No break time
That's what Keller did. He didn't feel comfortable at the two largest ministries - Campus Crusade for Christ and Navigators - so he tried a smaller option. (Representatives from Campus Crusade and Navigators couldn't be reached for comment for this story.)
Keller's group, University Christian Fellowship, meets at 7 p.m. Thursdays in the Kansas Union. Members have a worship service and discussions, often about the latest topics in the news.
Keller realizes, though, that he's in the minority when it comes to being involved in a campus ministry. Many students opt not to get involved in church during their time at a university, he says.
"I think it's important to grow with Christ during your time in college," he says. "I don't think you should take a break. But a lot of people do."
He likes having a built-in group of friends who share a common interest.
"In my own experience," he says, "I was looking for that fellowship, to feel like you belong to something and being around people who care about you. You're not some random guy who showed up. They look forward to seeing you."
Copyright 2018 The Lawrence Journal-World. All rights reserved. This material may not be published, broadcast, rewritten or redistributed. We strive to uphold our values for every story published.