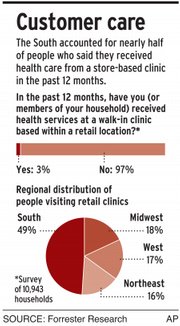 New York — Increasingly, American consumers are shopping for health care the way they buy a hamburger or milk shake at a fast-food chain: by standing in line at a local store under a menu.
Store-based health clinics - which are staffed mostly by nurse practitioners and offer quick services for routine conditions from colds and bladder infections to sunburn - aren't just a health care fad anymore, but fast becoming a serious industry.
About 7 percent of Americans have tried a clinic at least once, according to an estimate by the Convenient Care Association, an industry trade group formed last year.
That number is expected to increase dramatically, as major pharmacy operators like Wal-Mart Stores Inc., CVS Corp., Target Corp. and Walgreen Co., partner with miniclinic providers like RediClinic and MinuteClinic to expand operations. The trade group estimated there will be more than 700 by year-end, up from the more than 400 now, and 2,000 by the end of 2008.
Lower cost, shorter waits
With the nation's $2 trillion health care system in need of repair, such an express approach to health care - which offers a wait time averaging about 15 minutes and evening and weekend hours - is being heralded as serving up a cheaper and quicker alternative than a doctor's office or an emergency room.
A physical exam costs on average $60, while a flu shot typically costs about $20. A strep throat test has a price tag of about $15.
"I was frankly very impressed with how thorough (the examination) was," said Susan Anthony, who visited a clinic at a Phoenix, Md., Target for a dry cough. "And it was fast. I walked in at 10:30 a.m. and was in my car a little after 11 a.m."
The American Medical Association said a growing number of medical practices are extending their office hours or forming their own clinics to compete. But concerns about quality of care are rising among physicians.
Insurance support growing
The competition is already spawning expanded services as well as new spinoffs. Consumer Health Services Inc. just started rolling out walk-in doctor's offices at Duane Reade Inc. drugstores in the New York City area.
Support among health insurance companies is also growing; about 40 percent to 50 percent of clinics accept insurance from providers like Humana Inc., UnitedHealth Group Inc. and Aetna Inc., according to CCA.
But concerns are rising in the medical industry that these operations remain largely unregulated and are prone to conflicts of interest. Some physicians are also concerned that the clinics could disrupt the continuity of care and result in serious underlying health conditions going undetected.
In June, the American Medical Association urged state and federal agencies to look into whether pharmacy chain-owned clinics urge patients to get their prescriptions filled on site. That followed buyouts of miniclinics by two pharmacy operators: Walgreen bought Conshohocken, Pa.-based Take Care Health Systems in June, and CVS acquired Minneapolis-based MinuteClinic last year.
Store-based health clinics are held to the same high standards as doctors' offices, said Tine Hansen-Turten, executive director of the Convenient Care Association. She pointed out that store clinics are either monitored by a state board of nursing or board of medicine, and sometimes by both.
Lower health care costs?
AMA wants to ban the practice of health insurance companies waiving or lowering co-payments for clinic patients, which it calls a conflict of interest.
About 40 percent to 50 percent of clinics take insurance. Hansen-Turten estimated 50 percent of clinic customers pay cash, but she noted that the majority have insurance.
The AMA denies that its criticism of these clinics is being driven by economic interests, though there's no doubt that primary physicians could lose some business as their insured patients go elsewhere for minor ailments.
But health care consultants say that while the clinics may help save customers money and time, their ability to reduce overall health care costs will probably be limited given that they are really tackling the most minor of health problems.
Copyright 2018 The Associated Press. All rights reserved. This material may not be published, broadcast, rewritten or redistributed. We strive to uphold our values for every story published.