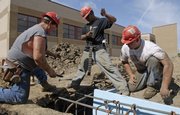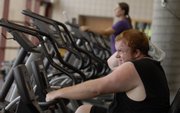 More space is needed to keep up with the pace of other recreation centers, and Kansas University is making sure to do just that.
Construction started on KU's Student Recreation Fitness center during the spring semester's finals week and is slated to be finished by fall 2008.
The project will cost $6.3 million, which was raised through a deal that students made with the Department of Athletics on seating in Allen Fieldhouse. The students exchanged 1,500 reserved seats for some of the revenue that was generated by them. That revenue was used to pay for the expansion.
While the students lost seats in Allen Fieldhouse, they will gain more room at the recreation center. On the north side of the building, two more basketball courts and two more synthetic all-purpose courts will be added. There will also be two racquetball courts and 2,000 square feet of space added for free weights.
"We are looking forward to have more room to spread people out a little more," said Mary Chappell, director of recreation services.
One of the biggest features, though, will be a new indoor full-swing golf simulator. Golfers will be able to select real courses, and when they hit the ball onto the screen, the computerized game will simulate where the golf ball would land.
Also, the current one-eighth mile track will be changed to wrap around the new gyms and will be one-fourth mile when completed.
Chappell said construction was going smoothly so far, and there haven't been any major delays. However, she is planning for some along the process.
"It's fun to sit around and talk about a seamless project, but it's not always the case," she said.
The idea to expand the recreation center came immediately after it was first built in 2003. Chappell said it was a mixture of seeing what other recreation centers were doing and student suggestions. When it comes to expanding, the recreation center looks at all possibilities.
"We are always looking at 'what do we need?'" Chappell said.
She said she was excited so many students gave their suggestions. On average, the recreation center sees 3,800 people a day, but as many as 5,000 people have used the facilities in a day.
Copyright 2018 The Lawrence Journal-World. All rights reserved. This material may not be published, broadcast, rewritten or redistributed. We strive to uphold our values for every story published.