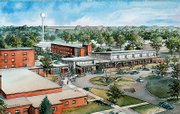 Kansas law enforcement officers in basic training soon will no longer have to bunk three to a room.
Kansas Law Enforcement Training Center near Hutchinson, on July 31 revealed the design for a new dormitory and building for classes and large events.
"It's going to create more of a campus environment," said Ed Pavey, the training center's director. "It will tie everything all together to enhance the facilities."
The center is a unit of Kansas University's Continuing Education program, and leaders for KLETC have said current facilities are at capacity. The training center is located on a former naval air station just west of Yoder.
Treanor Architects of Lawrence released a rendering of the center after completion of the $16 million capital improvement project.
KLETC serves as the state's major basic training academy for seven out of every 10 law enforcement officers in the state. The 14-week sessions involve classes of up to 60 officers, and about 400 officers are trained annually.
The new dormitory includes 63 two-person rooms. It provides much-needed expansion because the center now has dormitory space for 107 officers, but they have been squeezing in 143 of them by sleeping three to a room, Pavey said.
The other new building will house classes and a large meeting space for up to 800 people, which will be used for graduation ceremonies. The training center has been renting space at the State Fairgrounds for graduation.
One of the project's architects said the design allows the campus to expand and allows it to have a dominating building to serve as a "front door." The newer buildings also will blend in with existing ones.
Leaders expect to break ground on the new buildings in December and expect to complete construction in May 2009. The second phase includes building a new training course for emergency vehicle driving.
Copyright 2018 The Lawrence Journal-World. All rights reserved. This material may not be published, broadcast, rewritten or redistributed. We strive to uphold our values for every story published.