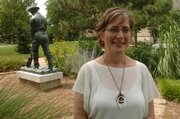 Graduate students and research go together like cookies and milk. It's hard to have one without the other.
So, Kansas University decided it made sense to pair the Lawrence campus Office of Research with the Graduate School. The decision was made during a search to replace Diana Carlin, who had been graduate dean since 1999.
KU Provost Richard Lariviere has said that research and graduate education "have so much in common, it makes good sense to bring them together with a single, high-priority mandate. ... That mandate is growth of research and growth in the size, scope and quality of doctoral programs at the Lawrence campus."
Sara Thomas Rosen, KU professor and chairwoman of the linguistics department, was hired to head the merger. She was named associate vice provost and dean of graduate studies June 29.
Don Steeples, vice provost for scholarly support, said Rosen stood out from the other applicants because of her achievements in the linguistics department.
"She has been a very successful chairperson of the department of linguistics, which has a heavy emphasis on graduate education," he said. "Linguistics is a field in which research emphasis has changed and become much more quantitative over the past 20 years."
Rosen will take that experience and apply it to the approximately 6,000 graduate students at KU. She believes pairing the graduate and research programs will be beneficial.
"I think it provides possible opportunities to try to grow both research and graduate studies in strength and to try to solve some funding issues that we have for graduate studies at KU," she said.
That's music to the ears of Charles Linkem, president of the Natural History Museum's graduate student organization.
Linkem, a third-year graduate student in herpetology, is studying the systematics of lizards in Southeast Asia. He said there is a need for money to support research such as his.
"Funding - that usually is the biggest problem," he said.
Although Linkem doesn't know much about the merging of the graduate and research programs, he said it made sense because most graduate students do research for their thesis statements.
"An integral part of any graduate student's thesis is to do research, so if it benefits graduate students to put those two together, then that's great," he said.
Rosen hopes to do just that, but it may take awhile. First, she has to establish the office.
"The immediate plan is to get the office up and running, to get it situated in Strong Hall, and to hire some staff so that we can actually sit down and do some real strategic planning," she said.
She also plans to meet with all of the deans and department leaders during the fall semester to find out what is working and what is not.
"I want to find out what we can do to support them in developing the best graduate programs we can," she said.
And Rosen is no stranger to such programs.
After receiving a Bachelor of Arts in psychology, she earned a master's degree in special education from the University of North Carolina. She received a doctorate in linguistics and cognitive science from Brandeis University, Waltham, Mass., in 1990. She also was a postdoctoral fellow at the University of Quebec.
She joined the KU faculty in 1991 as an assistant professor. She became an associate professor in 1996 and a full professor in 2006. She has been department chairwoman since 2000. Her primary research interest is the relationship between sentence structure and sentence interpretation.
While at KU, Rosen has received the J. Michael Young Academic Advising Award in 2002 and an Excellence in Teaching Award from the Center for Teaching Excellence in 1999.
Copyright 2018 The Lawrence Journal-World. All rights reserved. This material may not be published, broadcast, rewritten or redistributed. We strive to uphold our values for every story published.