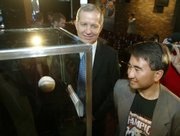 When Barry Bonds slammed his 756th home run and Alex Rodriguez hit his 500th, sound strategy, serious toughness and a little luck were at play.
Not for the players, but for the fans scrapping for the balls.
Crowds at sporting events are known to battle for the chance to catch a rolled up T-shirt. So, of course, there are a lot of people willing to throw a few elbows to grab the equivalent of a winning lottery ticket.
Historic home run balls always have captivated.
On the last day of the 1961 season, Sal Durante, then 19, got some tickets in the right field seats at Yankee Stadium. He failed in his modest dream of grabbing a batting practice ball.
But in the fourth inning, Roger Maris hit a home run - his 61st of the season, which broke Babe Ruth's single-year record - right at him.
He stood on his seat, reached as high as he could and plucked it from the air. No scrum.
He sold it for $5,000 - a huge windfall for a young man making $60 per week.
"The difference today is everybody knows if you catch or retrieve a famous baseball, it's going to be worth hundreds of thousands, maybe millions," said Durante, now a 65-year-old retired bus driver. "You're out there to kill."
Few home runs have been as anticipated as Barry Bonds' 756th, hit Tuesday at AT&T; Park in San Francisco to make him the all-time leader.
The biggest questions were when would Bonds hit it and who would catch it.
More important, what would he do with it, and how much would a wealthy sports fanatic pay for it?
The record-breaking ball hit the stands, then took a sharp bounce toward the right field foul pole and back a few rows. Chaos ensued as fans scurried for the ball.
Matt Murphy, a 21-year-old New Yorker, emerged from the scrum with his clothes torn, his face bloodied - and the ball in his hand.
"Longest minute of my life," Murphy said Thursday on NBC's "Today Show." "I think one gentleman kicked me in the back of the head. There were people on top of people on top of people, which I didn't really understand. The San Francisco Police Department really helped me out by getting there quickly."
Memorabilia experts estimate the ball could be worth a half million dollars in an auction for Murphy, who caught the game during a layover on his trip to Australia.
Murphy was lucky, said Zack Hample, a 29-year-old ball-collecting savant from New York who, through Wednesday, had snagged 3,143 balls at big-league games in every big-league park in use - and written a book about how to do it.
With a seat in the middle of a row, the only way Murphy was going to get the ball was if it came right to him.
Hample, who grabbed Bonds' 724th home run last year, would never leave it to chance like that. Fans who want a ball must have the right equipment, plan and technique.
His first rule: Take a baseball glove, even if it's an affront to your machismo.
"Is it unmanly that I caught a Barry Bonds home run because I wore a glove?" asked Hample, who hires himself out to attend baseball games with fans for $500 a pop and guarantees a batting practice ball. "You've got to put your pride on the shelf."
To craft a plan, fans should go to batting practice to learn how the balls bounce. And they should study where players tend to hit their slams.
Before his Bonds' home run snag, Hample's research on the exhaustive home run data Web site www.hittrackeronline.com told him that he had a decent shot at getting a ball if he stood farther back than most guys with gloves. That strategy worked.
And for the super-coveted balls, he said, it's essential to protect the prize.
There's a famous reason why: In 2001, when Bonds slugged his 73rd and final homer of his record-setting season, it landed first in Alex Popov's glove but ended up in the possession of Patrick Hayashi. There was a lawsuit (and a documentary film) over who was the rightful owner. A judge ordered the two men to split the $450,000 proceeds from the sale, but that amount won't be enough to cover Popov's legal bills.
For the much-anticipated home runs, stadiums also have plans.
At Petco Park in San Diego, where Bonds hit his 755th homer last week, the Padres closed some standing-room only sections to avoid brawls, had extra stadium security, including uniformed police, and a secure place to take the lucky ball grabber.
In that case, it was 33-year-old plumber Adam Hughes, who got the prize on a ricochet off a sign. "It wasn't ugly," said team spokesman George Stieren. "It was a typical laid-back San Diego thing."
Hughes said he wasn't thinking about getting the ball, even when it was coming his way.
"I was kind of thinking if it caroms straight for me and all these people dive on me, what am I going to do?" he said.
He picked the ball up off the ground and said, "I got it," and didn't have to fight anyone off.
Hughes, who has since chosen an auction house to handle the sale, was taken to a private spot near the stadium's suites to watch the rest of the game in peace.
It's not always so smooth. Trying to catch batting practice balls on Aug. 1 at Yankee Stadium, Hample was knocked down by another tenacious fan. He twisted his ankle and spent a few days on crutches. Three days later, he wasn't at the ballpark when Rodriguez nailed his 500th.
Instead, that ball went to Walter "Sonny" Kowalczyk, a 27-year-old Rutgers graduate student.
Though Sonny has a slugger's build - 6-foot-4 and 250 pounds, according to his brother, Brian Kowalczyk - he was in fetal position by the time police pulled other fans scrambling for the ball off him.
His prize for the pain? Experts say it's worth around $100,000.
If that's appealing, sports fans, take heart.
You may have missed out on the recent big Bonds and Rodriguez hits, but other players have a shot at reaching some scrum-worthy dinger milestones this year. Ken Griffey Jr. is within reach of 600 while Manny Ramirez, Gary Sheffield and Jim Thome all are closing in on 500.
Copyright 2018 The Associated Press. All rights reserved. This material may not be published, broadcast, rewritten or redistributed. We strive to uphold our values for every story published.