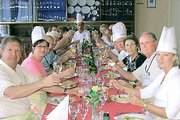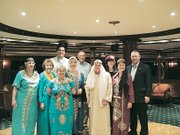 Virginia Mackey Snyder loves to travel.
It's even better when she can do it with a group of Jayhawks.
"It was a very friendly group," said Snyder, who lives in San Rafael, Calif. "Everyone was friendly."
She's talking about her recent Celtic Lands cruise with the Flying Jayhawks, a program offered by the Kansas University Alumni Association that provides planned trips with fellow KU alumni.
It's been going on for 38 years but took a hit following Sept. 11, when people were nervous to travel.
But now interest is booming again, and organizers say they see a bright future for the Flying Jayhawks. About 400 people took part in the trips in the past year - about twice as many as in 2005.
"People are traveling again," said Jamie Winkelman, assistant director for alumni programs. "We've also changed our lineup, throwing in different twists. And younger people are traveling, which is helping a lot."
The Flying Jayhawks have been around for about 38 years, Winkelman said. Forty-three trips are planned for 2008.
The number of KU alumni on the trips ranges from about 18 to 42. Though the demographics may be getting younger, 73 percent of those traveling last year were 52 or older.
The Alumni Association contracts through college travel companies, so Flying Jayhawks aren't only traveling with Jayhawks - they're traveling with groups from other alumni associations as well.
"It's just the comfort of group travel," Winkelman said of the benefits of the program. "For a lot of older people to make plans on their own, they're not technologically savvy for getting around and making air reservations. This is one-stop shopping. Meals are included, and excursions are included."
Popular destinations include Peru, Italy, Ireland and Iceland. Other trips include Antarctica (with two nights in Buenos Aires, Argentina) and Baja, Calif. (for whale watching).
"They know they're not going to be left in the middle of wherever - like Barcelona - to fend for themselves," Winkelman said.
Plans for 2008 include a trip down the Amazon River. With 23 trips yet to be booked, Winkelman said traveler numbers already have hit more than half of last year's totals.
The schedule for the Celtic Lands tour was what originally enticed Snyder, the California alumna, to go on a cruise. Stops included Wales, Dublin and Normandy.
"The itinerary for this was absolutely outstanding," she said. "There were places I never thought I'd get to see. It certainly was a plus that KU was planning it."
The multi-university trips sometimes lead to some comical moments, too. On the Celtic Lands trip - which was led by Kevin Corbett, president and CEO of the Alumni Association - that meant a friendly rivalry with Georgia Institute of Technology alumni.
KU alumni initially had Jayhawks on their cabin doors. Corbett put a Jayhawk on the Georgia Tech director's door, which led to a weeklong friendly spat with the Yellow Jackets. It ended when the Jayhawks circled the Yellow Jackets' table at the final dinner and sang the "Rock Chalk" chant.
While the event was fun, Corbett said there's a practical reason to offer the trips.
"It was a really good opportunity to engage people who may not be too close to the university but love to travel," he said.
Corbett learned that one couple on the trip had a bright granddaughter living in California. He plans to start recruiting her to come to KU.
Winkelman said she sees nothing but clear skies for the Flying Jayhawks in the future.
"All (of the contracted travel agencies) do a really good job hitting the hot spots internationally," she said. "And some of them have started going domestically, too."
Copyright 2017 The Lawrence Journal-World. All rights reserved. This material may not be published, broadcast, rewritten or redistributed. We strive to uphold our values for every story published.