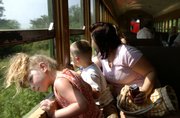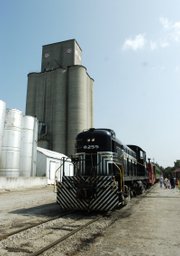 Midland Railway
Hear the general manager and a volunteer engineer talk about the Midland RailwaySee audio slideshow »
The calendar pages will flip backward 20 years Saturday at Baldwin City's Midland Railway.
It was on Aug. 8, 1987, when an excursion train pulled by a 1946 diesel locomotive left Baldwin City's 1906 depot and took its first passengers on a short six-mile round trip. Among the passengers was then-Gov. Mike Hayden.
That inaugural trek will be re-created starting at 11 a.m. Saturday. Fares will be reduced to their 1987 prices: $4 for adults and $2 for children ages 4 to 12.
Hayden, now head of the Kansas Department of Wildlife and Parks, will again be present. Baldwin City leaders also will be in attendance, as will U.S. Rep. Nancy Boyda, D-Kan. An anniversary ceremony is set for 10:45 a.m.
Midland general manager Ernie Griffin hopes the celebration will give people a chance to sample train riding as it was in the past, much longer than 20 years ago.
"About the only people now who can relate to trains are the ones who have been on Amtrak or commuter trains," Griffin said. "There are no commuter trains around here and Amtrak isn't exactly like the way trains used to be."
The railway is operated by volunteers with the Midland Railway Historical Association, which was formed in 1982 by six people, Griffin said. They began a search for a railway they could use for running excursion trains.
In 1987 the group, with the help of the Santa Fe Trail Historical Association, purchased a rail line out of Baldwin City that was no longer being used by the Santa Fe Railway. The association worked the first few months clearing brush and repairing tracks.
Since then the track route has increased 11 miles to the abandoned town site of Norwood and in 2004 was extended to Ottawa. Ride choices for either distance are offered from Memorial Day through Halloween.
Today the railway association has 150 members, with about 50 percent of them active, Griffin said. The trains attract an average of 25,000 people per year, with most of them coming on special event weekends, such as when Thomas the Tank Engine visits, he said.
The locomotive that pulled the inaugural train is still owned by Midland Railway but will not be used this weekend because it has an oil leak. A 1951 diesel locomotive will be used. Several of the many cars and engines the railway owns need repairs, Griffin said.
"Although they are nice looking and put on a good show, in reality they are not very effective because of mechanical problems," he said.
Griffin isn't sure what the railway will look like 20 years from now. Interest in railroads follows a 20-year cycle and right now that cycle is at a low ebb, he said.
"When we started 20 years ago most of the tourists knew trains from the great railroad era in the '30s, '40s and '50s," he said. "They came out and took their grandchildren on rides and reminisced about trains. Now a lot of adults haven't even ridden on trains."
Midland Railway and the depot are at 1515 W. High St. After the re-creation of the inaugural ride, other trains will leave at 1 p.m., 2:30 p.m. and 4 p.m.
Copyright 2018 The Lawrence Journal-World. All rights reserved. This material may not be published, broadcast, rewritten or redistributed. We strive to uphold our values for every story published.