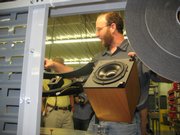 Three questions with ... Mike Lyons, new president of MartinLogan Ltd.
Selling high-end audio speakers to Lenny Kravitz, Chris Isaak, Albert Pujols and others on the celebrity A-list is just fine with Mike Lyons.
But he knows that drawing more regular folks - especially design-conscious female customers - will be keys for growing MartinLogan Ltd., the iconic Lawrence-based company he now leads.
"We're looking at different market segments, such as making our products and our experience more interesting to women, who are traditionally underserved in the consumer electronics market," said Lyons, who joined MartinLogan last month as president after seven years as an executive at iBiquity Digital, a developer and licenser of technology for high-definition radio broadcasting.
In taking over for Rafael Nevares, who left MartinLogan four months ago after five years in the top job, Lyons said he had a plan for building sales, market share and global reach for MartinLogan's high-performance equipment. He emphasized three components as priorities:
¢ Expand international efforts. "There's a lot of opportunity in Shanghai. There's a lot of opportunity in France and Spain. Our brand is extremely strong in those places, but we'll be ramping up." Look for more products to be tailored for specific international markets, through product design, prices and features.
¢ Boost core independent businesses. That means assisting MartinLogan's network of about 500 independent audio retailers in the United States - including Kief's in Lawrence - by giving them more access to a wider array of products, from the company's existing signature line of electrostatic speakers to an array of new ones, including some still in development.
¢ Increase emphasis on "architectural series"-type products. The idea is to create more speakers and other equipment that can blend into walls, ceilings and other features of a home, as MartinLogan looks to attract buyers who aren't as focused on the company's long history of products that not only produce great sound, but also stand out as design elements - some of the company's most famous and expensive speakers are known simply as "The Statement" - in any room.
That's where women come in. MartinLogan's custom home-installation business now accounts for about 20 percent of overall sales, Lyons said, and he's looking to boost that share to 30 percent or 35 percent by taking a less-is-more approach during the next year.
And women, he said, make many of the decisions regarding such work.
"If we can build speakers that go in the wall and disappear, or can blend in with the decor, or can give them quite a number of decorating solutions that are not clumsy or cumbersome or dominating in the space, then I think that's something we should do," Lyons said.
Lyons comes to the job with a sound background. While attending Kansas State University - he received a sociology degree there in 1975 - he worked in a Team Electronics store. He ended up managing the chain's Lawrence shop, then adjacent to The Malls shopping center where Gayle Sanders - MartinLogan's co-founder - was managing Kief's.
"We were somewhat friendly competitors," Lyons said.
From there - through a career that led to a post in product development and marketing for consumer products at Sony, then jobs with increasing responsibilities at Sharp Electronics and Compaq - Lyons never lost touch with Sanders.
Now he's running the private company whose majority owner is ShoreView Industries Inc., has 80 employees on the payroll and records annual sales of somewhere between $20 million and $50 million a year.
"I've known the company, literally, since day one," Lyons said. "It's going to be a very interesting challenge."
Copyright 2018 The Lawrence Journal-World. All rights reserved. This material may not be published, broadcast, rewritten or redistributed. We strive to uphold our values for every story published.