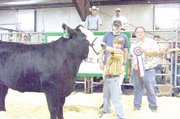 Tyler Kapelle, 12, said keeping things on an even keel helped him become owner of what became Douglas County's grand champion market steer Sunday.
Did he expect it?
"Nope. I thought it was pretty cool," he said calmly Monday at the home of his parents, Jamie and Kelly, southeast of Lawrence.
Tyler will be a sixth-grader at Baldwin Junior High School. He is a member of Palmyra 4-H Club.
His market steer weighed 1,328 pounds and received a base bid of $1,228.40. Central National Bank and Zarco 66 had the top premium bid of $3,200.
The base bid is an animal's market value. The premium bid represents a bonus given to the sellers.
The 4-H & FFA Livestock Auction on Sunday evening in the Community Building capped the 2007 Douglas County Fair at the Douglas County 4-H Fairgrounds, 2110 Harper St.
The auction's sales totaled $138,651 for 133 animals, according to the Douglas County Fair Board.
Dylan Schumann, of Lecompton, owned the 1,284-pound reserve grand champion market steer, which sold for a base bid of $1,187.70 and a premium bid of $1,300 to Subway Restaurants.
Recalling his time in the show ring, Tyler said staying calm was key.
"You just got to keep your cool and keep a smile on your face, and you're all right," he said.
Tyler said that goes with fulfilling his responsibility of feeding the animal every morning and night throughout the year.
Tyler's mother said her son saves his winnings each year to buy his own animals for the next year's fair. His recent winnings are, by far, more than he has ever brought home, and the family has talked about saving some of it for college, Kelly Kapelle said.
Other grand champion market winners this year were:
Conner Nottingham, Lawrence, for a 131-pound sheep, bought with a base bid of $120 and Bayer Animal Health's premium bid of $1,000.
Olivia Beins, Baldwin City, for a 276-pound hog, for a base bid of $129 and a premium bid by Subway Restaurants of $1,000.
Jennifer Tuley, Lawrence, for the grand champion market rabbit, bought by Checkers Foods with a premium bid of $500.
April Hostetler, Baldwin City, for a 131-pound meat goat, bought for a base bid of $111 and by a premium bid from Checkers Foods for $650.
Lacey Vesecky, Baldwin City, for the best meat pen of chickens, bought by Clinton Eagles 4-H Club with a premium bid of $500. There was no base bid listed.
Copyright 2018 The Lawrence Journal-World. All rights reserved. This material may not be published, broadcast, rewritten or redistributed. We strive to uphold our values for every story published.